Tempe, AZ. — November 9, 2011 — TÜV Rheinland PTL (TÜV PTL), North America's largest solar and photovoltaic (PV) testing company, announces that Wiosun™ pv-therm (PVT) 180 Combined Heat and Power Module has earned four TÜV PTL's certificates, confirming that the product complies globally with the safety and quality codes required of thermal solar collectors and PV modules. The PV-Therm module is manufactured by Solarzentrum Allgäu of Germany and is distributed in the U.S. and Canada by Solarzentrum North America, Inc.

TÜV Rheinland PTL tests and certifies systems slated for sale in the European Union, Asian and North American markets to assure that solar thermal, PV, concentrated photovoltaic, and concentrated solar power systems comply with electrical, mechanical, and environmental requirements for both product quality and product safety.
The WIOSUN PVT 180 is the world's only certified combination module to have passed TÜV PTL's testing according to IEC 61215:2005, IEC 61730-1:2004 and IEC 61730-2:2004, ANSI/UL 1703 and SRCC-OG 100 standards. The PV-Therm module combines the benefits of both a thermal solar collector and PV module, providing heating, cooling and electricity to a facility all at the same time. On the back, the module is fitted with a steel heat exchanger, which transports the heat away from the solar cells and allows them to produce up to 30% more electrical output. Prospective applications for this product include producing electricity and hot water for homes and businesses as well as heating pools, spas and homes.
About 70% of all solar module manufacturers have their products tested by TÜV Rheinland to obtain national and international market licenses. TÜV Rheinland operates test laboratories for solar modules and systems in six locations worldwide: Cologne, Germany; Shanghai, China; Taichung, China; Yokohama, Japan; and Bangalore, India, as well as a U.S. facility in Tempe, Arizona at TÜV Rheinland PTL. Hundreds of experts specializing in solar technologies work at the existing test centers.
For more information, visit www.tuvptl.com or call TÜV Rheinland toll-free at 1-TUV-RHEINLAND (888-743-4652).
Featured Product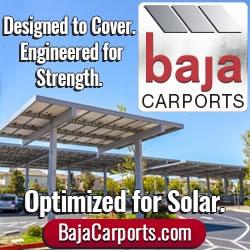 Baja Carports offers an extensive solar support system product line customized to customers' site specifications by in-house engineers, meeting their parking lot coverage, plus optimal PV production needs. Baja's Full Cantilever Tee is often paired with its Semi and Full Cantilever carports to meet live/loads up to 60psf and wind speeds to 160mph. All Baja products are pre-fabricated, bolted connections, pre-galvanized structural steel for fast on-site installation and project aesthetic requirements."