Conergy featuring its Conergy ON modules at CanSIA Solar Canada Conference
Toronto, Ontario, 15 November 2011 – Conergy Canada's FIT and micro-FIT compliant Conergy ON module recently was identified as the most recommended module brand among Ontario installers according to ClearSky Advisors Ontario PV Installer Survey. Consisting of high-quality components, the Conergy ON module uses Grade A, 3-busbar cells, a rear-ventilated, sealed and potted junction box and PV cables that have 32 times the life expectancy of normal cables. The Conergy ON module is manufactured in Ontario to Conergy's tight quality controls and with best practices learned from Conergy's extensive manufacturing experience at its facility in Frankfurt (Oder), Germany.

"Conergy is proud that Conergy ON modules are the most recommended module brand among Ontario installers. This is testament to Conergy's exacting global quality standards that we insist on implementing at a local level. Every component that goes into the Conergy ON modules, from the industry leading Huber and Suhner junction box to the best in class 3 busbar cells, ensures that system owners will return the cash flows they expect," stated Jared Donald, President of Conergy Canada.
ClearSky Advisors, a leading independent research and advisory firm in Canada, recently published its Ontario PV Installer Survey and announced that the Conergy ON module was named the most recommended module brand among Ontario installers. The Ontario Installer Survey included responses from 66 installers representing 48% of the Ontario PV market for microFIT and small commercial installations (based on reported installation numbers for the first six months of 2011). The survey covers installers' buying preferences, buying behaviour, channel preferences, pricing, market outlook and recommendations to module manufacturers. The report showed that Conergy Canada captured the highest share of wallet in Ontario.
With its reliable yield and lifetime durability, Conergy ON modules provide a solid investment for both FIT and microFIT projects. Manish Nayar, Managing Partner of OYA Solar Inc., a FIT project owner who uses the Conergy ON module in his projects stated, ""As a FIT project owner, I chose the Conergy ON module because of its quality engineering and components. The build quality combined with Grade A cells, microstructured glass and the high-performance electrical management system give me the confidence that the Conergy ON module will provide high yields for a highly profitable FIT project."
MicroFIT project installer, Derek Ramseyer, recommends the Conergy ON module to his customers due to its premium quality components. ""We chose the Conergy ON for our microFIT installations because the quality materials that go into every module. The Conergy ON junction box with cooling channels improves electrical performance. The cables, that reduce electrical resistance and have 32 times the life expectancy of industry-standard cables, ensure safety and security, while decreasing maintenance costs. We continue to recommend the Conergy ON module for our microFIT projects. All of our customers for which we have installed the Conergy ON have been extremely happy with the modules performance. In most cases, the Conergy ON module has exceeded energy production expectations." stated Derek Ramseyer, President of Solar One Canada.
About Conergy North America
As a full system manufacturer, Conergy Group delivers solar energy systems from a single source and offers all services under one roof.
Through deep-rooted operations in 18 countries, Conergy System Sales sells premium Conergy products to customers in nearly 40 countries worldwide. Conergy supports homeowners, installers, wholesalers and investors in their efforts to "go solar.". With local sales activities on five continents, Conergy has close relationships with all its customers. Listed on the Frankfurt stock exchange, Conergy employs more than 1,700 people worldwide. Since Conergy's founding in 1998, it has produced and sold more than 1.5 GW of clean solar power, and developed over 500 MW of solar parks.
Conergy's Solar Large Projects Group manages the planning, financing, installation, monitoring, and ongoing operations and maintenance for turn-key solar projects across the globe. Conergy;s broad project expertise ensures maximum performance from every Conergy power plant..
Through its acquisition of well-established local companies, Conergy began operating as a distributor and project developer in North America in 2005 and currently has five offices, four warehouses and three production sites in the region. In North America, Conergy is both a manufacturer and wholesaler. Conergy manufacturers mounting systems in Sacramento, CA. In Ontario, Canada Conergy produces modules and mounting systems that meet local content requirements for the Provincial FIT. Conergy offers innovative products and tailored services to its North American network of system integrators and project developers. Through these activities, Conergy maintains expert knowledge about local market conditions and requirements.
Please contact us if you have any questions or requests.
Featured Product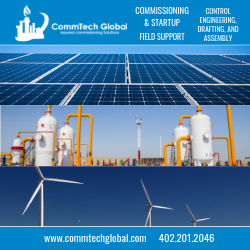 CommTech Global Solutions, LLC, provides professional and reliable commissioning services to customers in all realms of the energy industry. We blend our skills in engineering and technology with innovative business models, offering a complete range of services to assist you for a successful and in compliance operational startup. Consolidation of all our service domains gives our clients a comprehensive set of expertise and far-reaching experience on each project.