- Finance Forum in San Francisco to kick-off year of events highlighting the dynamic growth of the geothermal market -
Washington, DC (November 14, 2011) — The Geothermal Energy Association (GEA) has released the trade association's schedule of events for 2012, commencing with the highly anticipated and well attended Geothermal Energy Finance Forum January 18 in San Francisco.

GEA events offer important opportunities to learn and network within the dynamic and growing geothermal community, and to inform and educate companies and organizations outside the industry, who are interested in learning more and getting involved geothermal energy.
"With so many changes in the renewable energy marketplace, and interest in the geothermal market spreading rapidly, education and networking are two vehicles that are critical to keep the industry moving forward with the knowledge and tools needed to make the right business decisions," said GEA Executive Director Karl Gawell.
GEA Events 2012
January 18, 2012 GEA Geothermal Energy Finance Forum - San Francisco, CA
February 14-16, 2012 Renewable Energy World Conference and Expo - Long Beach, CA (GEA is a supporting organization for this event)
May 23, 2012 GEA International Geothermal Energy Showcase - Washington, DC
August 7-8, 2012 GEA National Geothermal Summit 2012 - Sacramento, CA
Sept. 30-Oct. 2, 2012 GEA Geothermal Energy Expo® and GRC Annual Meeting - Reno, NV
Full details regarding each event specifically will be released in advance of the respective date. To keep track of new events and changes to the calendar visit www.geo-energy.org.
For more information about sponsorship opportunities, please contact Kathy Kent at kathy@geo-energy.org. For media credentials, please contact Adam Daley at adam@rosengrouppr.com or 646-695-7043.
About the Geothermal Energy Association:
The Geothermal Energy Association (GEA) is a trade association composed of U.S. companies who support the expanded use of geothermal energy and are developing geothermal resources worldwide for electrical power generation and direct-heat uses. GEA advocates for public policies that will promote the development and utilization of geothermal resources, provides a forum for the industry to discuss issues and problems, encourages research and development to improve geothermal technologies, presents industry views to governmental organizations, provides assistance for the export of geothermal goods and services, compiles statistical data about the geothermal industry, and conducts education and outreach projects.
Featured Product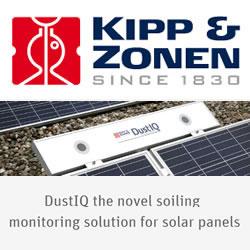 Soiling of the panel glass is one of the major problems in the rapidly expanding solar energy market, with the attendant loss of efficiency and reduction in performance ratios. Now, there's a new, simple and very cost-effective alternative. Based on Kipp & Zonen's unique Optical Soiling Measurement (OSM) technology, DustIQ can be easily added to new or existing solar arrays and integrated into plant management systems. The unit is mounted to the frame of a PV panel and does not need sunlight to operate. It continuously measures the transmission loss through glass caused by soiling, so that the reduction in light reaching the solar cells can be calculated.