- Finance Forum in San Francisco to kick-off year of events highlighting the dynamic growth of the geothermal market -
Washington, DC (November 14, 2011) — The Geothermal Energy Association (GEA) has released the trade association's schedule of events for 2012, commencing with the highly anticipated and well attended Geothermal Energy Finance Forum January 18 in San Francisco.

GEA events offer important opportunities to learn and network within the dynamic and growing geothermal community, and to inform and educate companies and organizations outside the industry, who are interested in learning more and getting involved geothermal energy.
"With so many changes in the renewable energy marketplace, and interest in the geothermal market spreading rapidly, education and networking are two vehicles that are critical to keep the industry moving forward with the knowledge and tools needed to make the right business decisions," said GEA Executive Director Karl Gawell.
GEA Events 2012
January 18, 2012 GEA Geothermal Energy Finance Forum - San Francisco, CA
February 14-16, 2012 Renewable Energy World Conference and Expo - Long Beach, CA (GEA is a supporting organization for this event)
May 23, 2012 GEA International Geothermal Energy Showcase - Washington, DC
August 7-8, 2012 GEA National Geothermal Summit 2012 - Sacramento, CA
Sept. 30-Oct. 2, 2012 GEA Geothermal Energy Expo® and GRC Annual Meeting - Reno, NV
Full details regarding each event specifically will be released in advance of the respective date. To keep track of new events and changes to the calendar visit www.geo-energy.org.
For more information about sponsorship opportunities, please contact Kathy Kent at kathy@geo-energy.org. For media credentials, please contact Adam Daley at adam@rosengrouppr.com or 646-695-7043.
About the Geothermal Energy Association:
The Geothermal Energy Association (GEA) is a trade association composed of U.S. companies who support the expanded use of geothermal energy and are developing geothermal resources worldwide for electrical power generation and direct-heat uses. GEA advocates for public policies that will promote the development and utilization of geothermal resources, provides a forum for the industry to discuss issues and problems, encourages research and development to improve geothermal technologies, presents industry views to governmental organizations, provides assistance for the export of geothermal goods and services, compiles statistical data about the geothermal industry, and conducts education and outreach projects.
Featured Product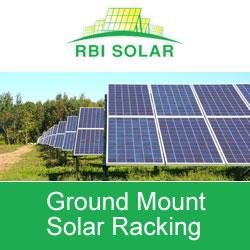 RBI ground mount solar systems are designed and engineered for each customer's site specific conditions to minimize the field installation labor and require no field welding, drilling, or other on-site fabrication. Our meticulous project planning and precise execution combine to provide you with solar racking solutions that are tailored to the unique conditions of your location. RBI provides a wide range of PV mounting systems in various sizes to offer freedom and flexibility to support every type of PV module. RBI Solar ground mount system is a perfect utility scale solar racking solution with two models classified by Intertek to UL subject 2703. ETL Classified systems include proven models GM-I and GM-T which have been used on many large commercial and utility scale solar racking projects across the country.