B.C. Premier Christy Clark and India Minister of New & Renewable Energy preside over signing ceremony
VANCOUVER, CANADA– Ballard Power Systems (TSX: BLD) (NASDAQ: BLDP) today announced that it has signed a Memorandum of Understanding (MOU) with Delta Power Solutions (India) Pvt. Ltd. [Delta], a subsidiary of Delta Electronics (Thailand) PLC, expanding the range of clean energy applications they will focus on under an existing fuel cell system collaboration agreement.

Christy Clark, British Columbia's Premier and Dr. Farooq Abdullah, India's Minister of New & Renewable Energy, hosted a signing ceremony in New Delhi with senior representatives of Ballard and Delta. Premier Clark is currently conducting a Province-led jobs and trade mission in India.
Dalip Sharma, Managing Director of Delta Power Solutions (India) said, "The MOU represents an exciting expansion of our collaboration agreement with Ballard, enabling environmentally-sound fuel cell solutions for the India economy. This will be an important step toward delivery of a growing proportion of energy requirements in India by means of renewable power solutions."
John Sheridan, Ballard's President and CEO added, "This is a strategic agreement underpinning Ballard's participation in India's expanding economy, where GDP growth is projected at more than seven-percent annually for the next several years. There are numerous applications in which clean fuel cells can replace dirty lead-acid batteries and noisy, polluting diesel generators."
Ballard and Delta recently announced their collaboration agreement in relation to sales of fuel cell-powered backup power systems in the India telecommunications market, under which an initial purchase order was issued by Delta earlier this month. Under the new MOU, the collaboration agreement has been expanded to encompass utilization of fuel cell-powered backup power systems in additional India market applications, including commercial uninterruptable power supply (UPS) systems for data centres, industrial power solutions and distributed power generation.
About Ballard Power Systems
Ballard Power Systems (TSX: BLD) (NASDAQ: BLDP) provides clean energy fuel cell products enabling optimized power systems for a range of applications. Products contain proprietary esencia™ technology, ensuring incomparable performance, durability and versatility. To learn more about Ballard, please visit www.ballard.com.
This release contains forward-looking statements concerning future sales opportunities. These forward-looking statements reflect Ballard's current expectations as contemplated under section 27A of the Securities Act of 1933, as amended, and Section 21E of the Securities Exchange Act of 1934, as amended. Any such forward-looking statements are based on Ballard's assumptions relating to its financial forecasts and expectations regarding its product development efforts, manufacturing capacity, and market demand.
These statements involve risks and uncertainties that may cause Ballard's actual results to be materially different, including general economic and regulatory changes, detrimental reliance on third parties, successfully achieving our business plans and achieving and sustaining profitability. For a detailed discussion of these and other risk factors that could affect Ballard's future performance, please refer to Ballard's most recent Annual Information Form. Readers should not place undue reliance on Ballard's forward-looking statements and Ballard assumes no obligation to update or release any revisions to these forward looking statements, other than as required under applicable legislation.
Further Information
Media: Guy McAree, +1.604.412.7919, media@ballard.com
Investor Relations: Lori Rozali, +1.604.412.3195, investors@ballard.com
Featured Product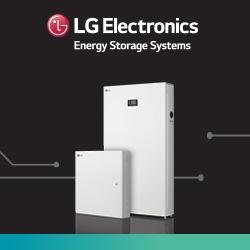 LG Solar is transforming today's solar landscape, offering precision-manufactured and high-efficiency solar panels for homeowners who demand high performance, reliability and consistently strong energy yield from a brand they can trust. LG modules feature outstanding durability, appealing aesthetics and high-efficiency technology, backed by a limited 25-year product, performance and labor (up to $450) warranty. Homeowners who purchase LG Solar modules know they're protected by a diversified global brand.