Unique Alliance to Manufacture and Develop SOG Fresnel Lens Plates for CPV Solar Energy Systems Within Soitec's Planned New Factory in San Diego, Calif.
Bernin, France, and Avon, CT, November 15, 2011 — Soitec (Euronext), a world leader in generating and manufacturing revolutionary semiconductor materials for the electronics and energy industries, and Reflexite Energy Solutions Inc., a U.S.-based global supplier of microstructured optical components for the solar power, lighting, instrumentation and display industries, have entered a joint venture called Reflexite Soitec Optical Technology LLC. The new company will produce the silicone-on-glass (SOG) Fresnel lens plates used in Soitec's concentrator photovoltaic (CPV) modules and co-develop next-generation technologies that will continue to increase the efficiencies and lower the costs of SOG lens plates. The joint venture will be located within the new CPV manufacturing facility that Soitec is planning to open in San Diego, Calif.

Reflexite is supplying the technology and manufacturing expertise to produce injection-molded SOG lens plates at the "fab within a fab" to be built inside Soitec's San Diego facility. Soitec is providing lens design expertise to achieve maximum performance across a wide range of operating conditions in CPV modules, business opportunities in the Southwest U.S., and the technical infrastructure of the factory. Soitec and Reflexite are currently collaborating on the design of the area of the factory to be dedicated to the Joint Venture, which will employ approximately 100 people.
"This joint venture is unique in the CPV industry and represents a very important step in our commitment to the San Diego region and the U.S. market. It is both a technological collaboration and an innovative economic solution in the highly competitive renewable-energy market," said André Jacques Auberton-Hervé, president, CEO and chairman of Soitec. "By working together under the same roof, we can ensure the continuous supply of superior-quality lens plates at the most competitive cost, and our future product development programs will be much more efficient by working in such close proximity."
"Reflexite has always strived to provide the best total solution for our customers. We have partnered with Soitec for many years to develop a durable, field-tested system that has been deployed successfully around the world, and we will bring all this experience to bear as we build up our common California base of operations together," said Michael Foley, CEO of Reflexite. "We are very happy to see Soitec re-confirming their choice of Reflexite's SOG technology as a critical component of their high efficiency system, and we are sure that by co-locating our optics facility with their CPV module assembly facility we will have the best possible logistics and even closer collaboration in the future. We want to make sure we do our part to support Soitec's efforts to serve the U.S. utility scale solar market."
One of the important elements in CPV systems is the lens plate, which incorporates a Soitec designed Fresnel lens that concentrates sunlight more than 500 times to achieve CPV technology's industry-leading efficiency. Soitec was the first CPV company to use SOG to produce its lens plate design which combines the excellent durability of a glass surface with high-volume precision microreplication, the key to low-cost production.
Reflexite's SOG lens plates are the most durable on the market and provide excellent energy-generating efficiency, with no mechanical or chemical degradation such as yellowing, cracking and delamination. The combination of Soitec's and Reflexite's technologies provides the most durable, reliable, efficient CPV systems, generating consistent electricity output over the lifetime of a solar power plant.
Reflexite has been a long-time supplier of SOG lens plates to Soitec, and its optics are key elements in the CPV systems that have already won Soitec more than 300 MW in solar power plant projects throughout the Southwest U.S.
About Reflexite
Reflexite is in the business of Saving Lives and Saving Energy. The company's Energy Solutions Business produces optical components and films that reduce energy consumption, generate clean energy and improve the operating efficiency of electro-optical systems. The company's Reflective Solutions Business produces optical films which make people and things more visible and safer, day and night. Reflexite's unique proprietary technology embodies three elements: optical design, microreplication and polymer processing. In August 2011, Reflexite became a part of the Germany-based ORAFOL Group, one of the world's leading suppliers of global reflective materials, graphic products and industrial tapes. For more information, visit: http://www.reflexite.com/.
About Soitec
Soitec is an international manufacturing company, a world leader in generating and manufacturing revolutionary semiconductor materials at the frontier of the most exciting energy and electronic challenges. Soitec's products include substrates for microelectronics (most notably SOI: Silicon-on-Insulator) and concentrator photovoltaic systems (CPV). The company's core technologies are Smart Cut™, Smart Stacking™ and Concentrix™, as well as expertise in epitaxy. Applications include consumer and mobile electronics, microelectronics-driven IT, telecommunications, automotive electronics, lighting products and large scale solar power plants. Soitec has manufacturing plants and R&D centers in France, Singapore, Germany, and the United States. For more information, visit: www.soitec.com.
Featured Product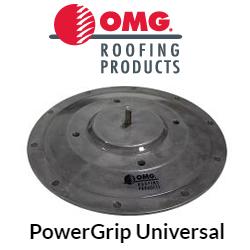 Eliminate Solar Rack Ballast and Reduce Rooftop Material Handling. PowerGrip™ Universal (PGU) is a commercial roof mount system designed to secure solar racks and other equipment to any type of commercial roofing system. PGU provides a secure connection directly to the roof deck or structural members and is designed to reduce or eliminate ballast in solar racking systems, so there's less weight on the roof and less material handling. Made of heavy-duty cast aluminum, PGU units include a base ring which is secured through the roofing cover and into the structural roof deck, and a waterproof top plate.