The 8th Environmental b2b Forum for South-East Europe will be promoted within the 8th Vienna Economic Event 'Go South East'
The Vienna event 'Go South East' (21 November 2011) is dedicated to the topics: Economy as an Engine of the Regional Development (Infrastructure, Transport, Energy, Legal Issues) and Banking and Insurance – Secure Financing as a Precondition for the Realization of the Regional Projects. The organizer's goal is to contribute to a better understanding of the Region development and to promote the investment opportunities in South-East Europe. The event will outline the public and private interests in connection with the various projects in the Region as part of the United Europe.

The 8th South-East European b2b Environmental Forum on Energy Efficiency, Renewable Energy and Waste Management will be presented within 'Go South East'. It will be held 28- 30 March 2012 in Sofia, Bulgaria. The Organizer Via Expo has 20 years of experience in organizing b2b events, which are primarily oriented to the South-East Europe.
Through the years of its existence the event has proved as one of the prominent initiatives in the environmental sphere for the Region incorporating in its format 'forum and exhibition'.
OVERVIEW of the SOUTH-EAST EUROPEAN FORUM 2011:
Exhibitors:
- 327 direct exhibitors and represented companies from 32 countries
- Group participations from Austria, Germany and the USA
- Three exhibition halls and open exhibition area - 6 500 sq.m.
Visitors:
- 50% rise in the visitor attendance compared to 2010
- 5900 professional visitors from Bulgaria and 39 other countries
Speakers: 75 industry professionals from Austria, Belgium, Bosnia and Herzegovina, Bulgaria, Canada, France, Finland, Germany, Greece, Hungary, Italy, Japan, the Netherlands, Poland, Portugal, Romania, Serbia, Slovenia, Spain, Switzerland, Turkey, the UK, the USA
Attendees: 510 specialists from Europe, Asia, Africa and the Americas
Partners: 80 partners and 66 media partners from Bulgaria and abroad; 300 internet sites worldwide; 147 local and Regional media.
For more info:
Brochure 2012
Via Expo, Bulgaria, T/F+359 32 960 011, 945 459 | E office@viaexpo.com | W www.viaexpo.com
Featured Product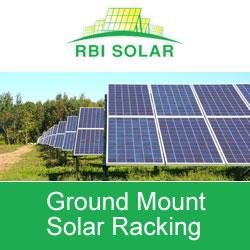 RBI ground mount solar systems are designed and engineered for each customer's site specific conditions to minimize the field installation labor and require no field welding, drilling, or other on-site fabrication. Our meticulous project planning and precise execution combine to provide you with solar racking solutions that are tailored to the unique conditions of your location. RBI provides a wide range of PV mounting systems in various sizes to offer freedom and flexibility to support every type of PV module. RBI Solar ground mount system is a perfect utility scale solar racking solution with two models classified by Intertek to UL subject 2703. ETL Classified systems include proven models GM-I and GM-T which have been used on many large commercial and utility scale solar racking projects across the country.