Intersolar India kicks off on December 14 at Bombay Exhibition Center (BEC) in Mumbai. Three years after its creation, India's international exhibition and conference for the solar industry continues on its strong upward trend and is pleased to announce a near 100% increase of exhibition space.
Mumbai/Pforzheim/Freiburg, 18 November 2011:

Intersolar India opens its doors for the third time from December 14 - 16, 2011. During the three days, the Bombay Exhibition Center (BEC) in Mumbai is hosting the international solar industry. Over 230 exhibitors and more than 6,000 visitors utilize the international exhibition and conference as a platform to exchange information on the latest trends, market policy developments and innovations in the solar industry, and to expand and strengthen their business networks.
Rabindra Satpathy, President of Solar Business Reliance Industries Ltd. in India and Committee Member of the Intersolar India Conference, also stressed the importance of networking to further develop the industry: "Intersolar India 2011 in Mumbai is being organized at the right time: It allows us to take stock of what is happening in the Indian solar market in order to reach the 20 GW target of the National Solar Mission. The exhibition addresses all stakeholders such as PV and thermal manufacturers, investors, policy makers and implementing agencies, EPC agencies and others. Intersolar India provides the ideal platform for meeting the right people and for the rapid and qualitative deployment of both grid-connected and off-grid PV and solar thermal technology across India, leveraging current solar policies."
Spotlight on innovation
This year, Intersolar India presents the Innovation Exchange for the first time, where exhibitors are given the opportunity to hold 30-minute presentations on their company's latest trends and developments. The Innovation Exchange offers exhibitors and visitors an ideal platform to acquire first-hand information about the industry and to engage in discussions with fellow industry professionals. Deepak Gadhia, Chairman of Gehrlicher Solar (India) Pvt. Ltd, Mumbai, a company that is also presenting at Intersolar India, says: "Participating in Intersolar India is a way for Gehrlicher Solar to show its clear commitment to the Indian market. We use the exhibition as a platform to present our products, technologies and services to the Indian solar industry, and we are delighted to contribute to the shaping of the future of the Indian solar market."
Intersolar AWARD Hall of Fame: Winners and nominees
Another highlight of Intersolar India 2011 is the Intersolar AWARD Hall of Fame. The Intersolar AWARD is the solar industry's international award that recognizes companies, products and ser-vices in photovoltaics, solar thermal technology, and PV production technology. The award is given out each year at Intersolar Europe in Munich. The names of the 2011 winners and nominees are exhibited along with their products in the Intersolar AWARD Hall of Fame.
Two Intersolar India Conference sessions during the Exhibition
From December 13 - 14, 2011, around 700 industry experts are meeting at the Intersolar India Conference to discuss and expand on the technologies being exhibited at the exhibition. The conference starts a day prior to the exhibition and runs one day into the event. Around 100 speakers are providing comprehensive insight into technology advancements and policies within the Indian and international solar industries. The conference is being held at the Leela Kempinski Hotel in Mumbai.
The 2011 conference has been developed by the Intersolar India Conference Committee, boasting a team of internationally recognized experts. Two additional sessions take place on December 15 at the exhibition's Innovation Exchange:
The so-called bankability of PV modules and installations is an increasingly important industry topic. The technical evaluation of large-scale projects by independent bodies is also becoming more and more central. The session Testing & Certification – Training & Education considers the topic and examines the technical requirements needed to obtain certification. The focus lies on the guidelines of the International Electrotechnical Commission (IEC) and on how to ensure optimal training of future technical staff with regard to these guidelines. Speakers from inspection and certification authorities contribute their personal expertise acquired through international work.
In addition, current trends in solar thermal technology are being presented during the CEO Panel Discussion with Solar Water Heater Manufacturers. Attendance at both conference sessions at the Innovation Exchange is free of charge for registered visitors.
Intersolar India 2011 takes place from December 14 – 16, 2011 at the Bombay Exhibition Center in Mumbai.
For more information on Intersolar India, please visit: www.intersolar.in
About Intersolar
With over 3,400 exhibitors and more than 110,000 visitors spanning three continents, Intersolar is the world's leading exhibition series for the solar industry.
Intersolar India is India's international exhibition and conference for the solar industry and, as a leading industry platform, focuses on photovoltaics and solar thermal technology. Following its successful launch in 2009, the event now takes place annually at the Bombay Exhibition Center in Mumbai. Intersolar India supports the development of the Indian solar market and promotes cooperation between key players in industry, commerce, service provision, and politics.
Intersolar's storied history of international exhibitions and conferences spans 20 years. Taking place in addition to Intersolar India are Intersolar North America in San Francisco and, launching in December 2011, Intersolar China in Beijing. The world's largest exhibition for the solar industry is Intersolar Europe in Munich.
Intersolar Europe is organized by Solar Promotion GmbH, Pforzheim, and Freiburg Wirtschaft Touristik und Messe GmbH & Co. KG. The exhibitions in North America, India, and China are organized by the international subsidiaries, Solar Promotion International GmbH, Pforzheim, and Freiburg Management und Marketing International GmbH (FMMI).
Featured Product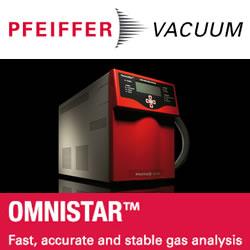 The Pfeiffer Vacuum OmniStar benchtop analysis system offers you a compact footprint, powerful software and Ethernet connectivity. It's the optimum solution for many real-time gas analysis applications. With the OmniStar, Pfeiffer Vacuum offers you a complete solution for gas analysis, in chemical processes, semiconductor industry, metallurgy, fermentation, catalysis, laser technology and environmental analysis. The turnkey OmniStar gas analysis system consists of heated, temperature-regulated gas inlet system, Quadrupole mass spectrometer, a dry diaphragm vacuum pump and HiPace turbopump. Unlike competing methods such as FTIR, OmniStar is suitable for qualitative and quantitative analysis of most gases.