Exhibitors announced for SOLAR THERMAL '11 conference. Mid-State Technical College sends students to attend.
Milwaukee, Wisconsin–

The exhibitors at the SOLAR THERMAL '11 National Solar Heating and Cooling conference will bring the latest in industry products, professional certification, training, sales and education to Milwaukee. 24 exhibitors will be featured at the upcoming conference, connecting the dots of the solar thermal industry across 12 states and two countries. The exhibitors for SOLAR THERMAL '11 are:
• Alberta Custom Tee, Alberta, Canada
• Caleffi Solar, Milwaukee, WI
• CallSource, Westlake Village, CA
• Eneref Institute, Doylestown, PA
• Heatwave Solar LLC, Edina, MN
• Hot Water Products, Milwaukee, WI
• IMC Instruments, Wittenberg, WI
• Mid-State Technical College, Wisconsin Rapids, WI
• Midwest Renewable Energy Association, Custer, WI
• Milwaukee Metro Solar Hot Water Business Council, Milwaukee, WI
• Next Generation Energy, Lafayette, CO
• North American Board of Certified Energy Practitioners, Clifton Park, NY
• Penton Media, Chicago, IL
• Roth, Syracuse, NY
• Rubber Triangle Company, Twinsburg, OH
• Rundle Spence, Milwaukee, WI
• Rural Renewable Energy Alliance (RREAL), Pine River, MN
• Solar Rating & Certification Corporation (SRCC), Cocoa, FL
• Solar Skies, Alexandria, MN
• SolarHot, Morrisville NC
• SolarLogic, LLC, Santa Fe, NM
• Stiebel Eltron, Inc, West Hatfield, MA
• SunEarth, Fontana, CA
• Sun-Way Solar, Niles, IL
Among the 24 exhibitors is Mid-State Technical College of Wisconsin Rapids, WI. Mid-State Technical College offers Associates Degrees in various areas of renewable energy including Energy Efficiency, Renewable Thermal Energy Technician and Renewable Electricity Technician. In addition to an exhibit booth, 30 renewable energy students from Mid-State Technical College will be attending the conference sponsored by registration funds from the Mid-State Renewable Energy Society (a student organization). Visit http://www.mstc.edu for more information. The Midwest Renewable Energy Association thanks and proudly welcomes all of this year's exhibitors to SOLAR THERMAL '11. Attendees at SOLAR THERMAL '11 won't want to miss the fantastic exhibitors that represent the effort to "connect the dots" throughout the industry.
SOLAR THERMAL '11 is a two-day conference and networking event for industry professionals including: installers, manufacturers, distributors, engineers, designers, policy makers, code officials, and trainers. The theme of SOLAR THERMAL '11 is "Connecting the Dots," representing an effort to speed solar thermal market transformation by "connecting the dots" across the industry. This one of a kind event will feature workshops, exhibits and presentations on the cutting edge field of solar heating and cooling. The Keynote speaker at SOLAR THERMAL '11 will be SRCC Vice-Chair, Mr. Mark Thornbloom. This year's event will take place December 1 & 2 at the Hyatt Regency Hotel in Milwaukee, WI.
Interested attendees, exhibitors and presenters should visit the official SOLAR THERMAL '11 website at www.solarthermalconference.org for more information or to register.
The Midwest Renewable Energy Association (MREA) is a non-profit 501(c)(3) educational organization. Founded in 1990, the MREA promotes renewable energy, energy efficiency, and sustainable living through education and demonstration. To learn more, call 715-592-6595 or visit www.midwestrenew.org.
###
Featured Product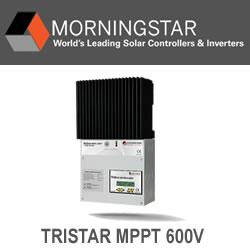 Morningstar's TriStar MPPT 600V charge controller leverages Morningstar's innovative TrakStarβ"' MPPT technology and our 20+ years of power electronics engineering excellence, to enable the widest input operating voltage range available from a solar array, wind turbine or hydro input. This controller's standard and DB versions are for off-grid applications, and the TR versions were developed to enable retrofitting grid-tied systems with battery backup.