SolarStrong makes affordable solar power projects available for privatized military housing communities nationwide, expected to be largest residential solar project in American history
SAN MATEO, Calif., & NEW YORK--(BUSINESS WIRE)--SolarCity and Bank of America Merrill Lynch today announced that they have agreed to terms on financing for SolarStrong, SolarCity's ambitious five-year plan to build more than $1 billion in solar power projects for privatized U.S. military housing communities across the country. As part of the project, SolarCity plans to partner with the country's leading privatized military housing developers to install, own and operate rooftop solar installations and provide solar electricity at a lower cost than utility power. SolarStrong is ultimately expected to create up to 300 megawatts of solar generation capacity that could provide power to as many as 120,0001 military housing units. SolarStrong would be the largest residential solar photovoltaic project in American history.

"This project demonstrates the long term viability of large-scale, distributed solar generation," said Jonathan Plowe, head of New Energy and Infrastructure Solutions at BofA Merrill. "We are excited to see the project through with SolarCity and extend our expertise and financing capabilities to propel residential solar to the next level."
Private equity firm U.S. Renewables Group (USRG) served as financial advisor for SolarStrong. When SolarCity began to plan SolarStrong in mid-2010, the company did not believe it could secure financing for a project of such a scope without a loan guarantee from the U.S. Department of Energy (DOE). SolarCity and USRG began the loan guarantee application process under DOE's Section 1705 loan guarantee program in October 2010, and BofA Merrill subsequently joined the application as lender. The DOE announced a conditional commitment of a partial loan guarantee for SolarStrong on Sept. 7, 2011, but the parties were unable to finalize the loan before the Sept. 30 program deadline. SolarCity and BofA Merrill continued to work to close SolarStrong without the loan guarantee.
"BofA Merrill never wavered when the loan guarantee wasn't finalized and worked with us to create a financing structure that works without it," said Lyndon Rive, SolarCity's chief executive officer. "SolarStrong makes affordable clean energy available on a much greater scale. This is uncharted territory for residential solar. The fact that SolarStrong can move forward without a federal loan guarantee is a clear indication that long-term incentives such as the investment tax credit are working."
SolarCity expects SolarStrong to create thousands of full-time and temporary jobs. The company hopes to provide as many of those jobs as possible to U.S. veterans and military family members, which have been among those hardest hit by the economic downturn. SolarCity has added more than 1,200 new, full-time workers since the recession began in December 20072; creating more than one new job per workday in that timeframe.
"This is a groundbreaking transaction that represents a key milestone for the U.S. solar industry," said Tim Newell, managing director for USRG Renewable Finance. "We're proud to be part of this project that will invest in military communities across the United States."
The SolarStrong project will allow privatized military housing developers to save money on energy costs that can be reallocated toward quality-of-life improvements and enhanced services for military families. SolarStrong will also help the Department of Defense — the single-largest energy consumer in the U.S. — secure more of its energy needs from renewable sources operated in parallel with the utility grid.
About Bank of America
Bank of America is one of the world's largest financial institutions, serving individual consumers, small- and middle-market businesses and large corporations with a full range of banking, investing, asset management and other financial and risk management products and services. The company provides unmatched convenience in the United States, serving approximately 58 million consumer and small business relationships with approximately 5,700 retail banking offices and approximately 17,800 ATMs and award-winning online banking with 30 million active users. Bank of America is among the world's leading wealth management companies and is a global leader in corporate and investment banking and trading across a broad range of asset classes, serving corporations, governments, institutions and individuals around the world. Bank of America offers industry-leading support to approximately 4 million small business owners through a suite of innovative, easy-to-use online products and services. The company serves clients through operations in more than 40 countries. Bank of America Corporation stock (NYSE: BAC) is a component of the Dow Jones Industrial Average and is listed on the New York Stock Exchange.
Bank of America Merrill Lynch is the marketing name for the global banking and global markets businesses of Bank of America Corporation. Lending, derivatives, and other commercial banking activities are performed globally by banking affiliates of Bank of America Corporation, including Bank of America, N.A., member FDIC. Securities, strategic advisory, and other investment banking activities are performed globally by investment banking affiliates of Bank of America Corporation ("Investment Banking Affiliates"), including, in the United States, Merrill Lynch, Pierce, Fenner & Smith Incorporated, and Merrill Lynch Professional Clearing Corp, which are registered broker-dealers and members of FINRA and SIPC, and, in other jurisdictions, locally registered entities. Investment products offered by Investment Banking Affiliates: Are Not FDIC Insured * May Lose Value * Are Not Bank Guaranteed.
About SolarCity
SolarCity®, a national leader in solar power design, financing, installation, monitoring and energy efficiency services, was founded with the mission to help millions of homeowners and businesses adopt clean power, protect themselves from rising gas and electricity costs and protect their environment from polluting power sources. The company's SolarLease® and Power Purchase Agreement (SolarPPA™) options can make it possible for homeowners and businesses to switch to clean, solar power for less money than they currently pay for electricity. Additional information about the company is available on the Web at www.solarcity.com.
Featured Product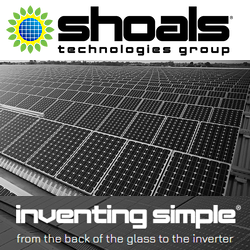 Inventing Simple® isn't just a slogan to us, it's a way of life. Using simple plug-and-play ideology, we revolutionized solar installations in 2003 with our Interconnect Systemâ"¢. Our harnessing system is now the gold standard EPC's use around the world. By using simple ideas, we are making solar energy a more affordable and clean power source for future generations.