Company agrees to aggressive energy savings and reporting practices
West Hartford, CT, December 2, 2011 – Today, Legrand joined President Obama and Department of Energy officials in Washington, D.C. to announce that the company has joined the Better Building, Better Plants Presidential Leadership initiative to create American jobs through energy efficiency.

Legrand is one of the world's largest manufacturers of electrical and data networking products for residential, commercial or industrial buildings. The company is one of just nine U.S. industrial organizations that have joined the initiative as Challenge Partners, pledging to the most aggressive energy savings, management and reporting practices outlined in a U.S. Department of Energy agreement.
By encouraging office and plant upgrades and renovations, the deployment of energy-saving solutions will boost local construction projects and expand opportunities for architects, design engineers, contractors and installers in communities throughout the U.S.
"People think energy-saving solutions are more complex than they are," explained John Selldorff, president & chief executive officer of Legrand North America. "We hope to show our customers, suppliers and other mid-size manufacturers how to cut through the complexity with simple, repeatable solutions that are currently available to significantly reduce energy consumption. It can be as simple as controlling the lights to make sure they are off when not needed."
The Better Building Challenge reporting requirements demand transparency and encourage replication of Challenge Partner projects across the U.S. economy.
"As other companies see what we do and deploy these ideas, they'll realize energy and cost savings and, ultimately, spur more job creation in their own communities," continued Selldorff.
As a Challenge Partner, Legrand has agreed to a series of high-impact actions that include:
• Reduce corporate wide energy intensity by 25% over ten years.
• Implement a "Showcase" project at a single site that will achieve a 10% energy intensity reduction in just two years.
• Deploy a "market innovation" that will accelerate achievement of energy efficiency gains.
• Report regularly on progress toward goals and lessons learned in deploying innovations and energy efficiency solutions.
Specific Legrand energy saving pledges and projects will be announced at a later date; however, the company is already installing sub-meters technology at 14 of its U.S. offices, manufacturing plants and warehouses. The technology will allow Legrand to instantly measure energy use, determine where greater efficiencies can be achieved through lighting and plugload management, and identify other upgrades needed to achieve energy efficiency goals.
"To save energy you need to know how you're using it. When you have the information, you're equipped to change behavior. That's what this is all about for us," noted Selldorff. "This partnership reflects our commitment to constantly improve environmentally sustainable business and manufacturing practices— and to employing strategies that enhance our economic competitiveness. The two go hand-in-hand. This partnership redoubles that commitment."
The Better Buildings, Better Plants initiative is Legrand's latest effort and a major step forward in improving energy management. Last year the company's W. Hartford headquarters enrolled in the DOE sponsored Green Collar Championship program that engaged Legrand employees in identifying and implementing several energy-saving projects that included:
• Installation of WattStopper motion sensors on restroom exhaust fans to curb 24/7 operation.
• Manufacturing efficiencies that resulted in YTD savings of 22,300 Ccf of natural gas and 935,748 gallons of water.
• Weatherization and insulation that has saved an estimated 10,200 Ccf of natural gas annually.
Reflective of the company's ongoing global commitment to sustainable practices, over 81 percent of Legrand sites worldwide are ISO 14001 certified.
###
About Legrand
Legrand is the global specialist in electrical and digital building infrastructures. Its comprehensive offering of solutions for use in commercial, industrial and residential markets makes it a benchmark for customers worldwide. Innovation for a steady flow of new products with high added value is a prime vector for growth. Legrand reported sales of $5.7 billion in 2010. Legrand has a strong presence in the North American market, with a portfolio of well-known product lines that include Cablofil, Electrorack, On-Q, Ortronics, Pass & Seymour, Vantage, Watt Stopper and Wiremold. The company is listed on NYSE Euronext and is a component stock of indexes including the SBF120, FTSE4Good, MSCI World, ASPI. In 2010, Legrand was added to the European DJSI as well (ISIN code FR0010307819). www.legrand.us
Featured Product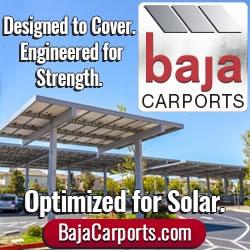 Baja Carports offers an extensive solar support system product line customized to customers' site specifications by in-house engineers, meeting their parking lot coverage, plus optimal PV production needs. Baja's Full Cantilever Tee is often paired with its Semi and Full Cantilever carports to meet live/loads up to 60psf and wind speeds to 160mph. All Baja products are pre-fabricated, bolted connections, pre-galvanized structural steel for fast on-site installation and project aesthetic requirements."