Georgia based solar installers Solar Energy USA will host a public event on Tuesday, December 13th at their corporate office in Alpharetta, GA to educate the public on how solar panel technology can be used to provide free fuel to power an automobile.
Solar Energy USA is demonstrating how to create fuel for your electric vehicle or plug-in hybrid. The 8,000 square foot corporate office of Solar Energy USA in metro Atlanta, Georgia runs all of it's electricity with solar panels, and creates extra electricity that is sent back to the grid. This extra electricity now powers a new company Chevy Volt daily. By changing all metal-halide and florescent lights to more energy efficient T5 lights, which the company sells to local warehouses and office complexes, Solar Energy USA first reduced their electricity consumption before creating their own energy using solar panels.

"We chose the Chevy Volt because it made the most sense for a company car," says Solar Energy USA President Perry Bell. "We wanted an all-electric, but there were none available in our area. The Volt was available and it has exceeded our office's expectations. We trade-off and use it for commutes, most of which are less than 20 miles. With an electric range of 40 plus miles, we seldom use gas."
How is solar used to fill a depleted electric car battery? The most common way solar is used is to create a percentage of electricity for a building. Electric vehicles are plugged into charging stations or outlets from a building. Since that electricity is measured, and solar panels create a measurable amount of electricity, systems can be sized according to demand. Any extra production of energy is credited back or used as power in the existing building.
The Georgia based solar installation firm will discuss how they power their new company Volt with a solar powered car charging station on Tuesday, December 13th at their office in Alpharetta. The public event begins at 12 noon at 7565 Industrial Court Alpharetta, Georgia 30004.
Featured Product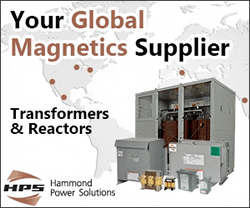 HPS is the largest manufacturer of dry-type transformers in North America. We engineer and manufacture a wide range of standard and custom transformers that are exported globally in electrical equipment and systems. We support solid industries such as oil and gas, mining, steel, waste and water treatment, and wind power generation. HPS leads the industry in these markets through its technical design strength, breadth of product, and manufacturing capabilities, making HPS a stronger company both fundamentally and financially.