Just in time for the holidays, EV drivers can now buy GE's wall-mounted EV charging station online by simply clicking and buying it on Amazon.com, just like any other product
PLAINVILLE, CONN.—Dec. 13, 2011—GE Energy (NYSE: GE) has reached an agreement with Amazon.com to sell its award-winning GE WattStationTM Wall Mount electric vehicle (EV) charger directly to U.S. consumers through the online retailer's popular website.

Just in time for the holidays, EV drivers can now buy GE's wall-mounted EV charging station online by simply clicking and buying it on Amazon.com, just like any other product. Available for use in the United States and Canada, the GE WattStation Wall Mount—a fast, easy-to-use EV charging solution—is part of GE's ecomagination portfolio of products and services.
"As demand and interest in the GE WattStation continues to grow, we're excited to give our customers an easy way to purchase the charger," said Sergio Corbo, chief marketing officer for GE Energy's Industrial Solutions business. "We believe the product is well-suited to an online purchasing experience."
With the new Amazon.com deal, EV owners can now purchase the fast, easy-to-use Level 2 EV charger anytime, anywhere, from any device. By making it easier than ever for electric vehicle drivers to purchase its state-of-the-art EV charger, GE is helping to lead the creation of the "end-to-end" charging infrastructure needed to electrify transportation in the future.
The GE WattStation Wall Mount delivers a full-cycle charge to a 24 kWh battery in only four to eight hours, whereas plugging an EV into a standard electrical outlet would require 12-18 hours to provide the same level of charge. In addition, unlike other EV chargers available to consumers, the GE WattStation comes equipped with built-in fuses to provide overload protection in the event of a fault occurrence.
Suitable for both indoor and outdoor installations, the EV charger is NEMA 3R rated to resist rain, sleet and even ice. The unit measures only 24 inches tall, 16 inches wide and 6 inches deep. A flexible cord conveniently wraps around the unit to keep it organized and off the ground.
A Fortune 500 company headquartered in Seattle, Amazon.com began in 1995 as an online bookstore and has grown into the world's largest online retailer, offering a vast array of consumer products.
To purchase a GE WattStation on amazon.com, visit http://www.amazon.com/GE-Energy-WattStation-Wall-Mount/dp/B0069VTGPE/ref=sr_1_1?s=industrial&ie=UTF8&qid=1322605888&sr=1-1.
Stay connected by following GE on Twitter @GE_WattStation.com.
About GE
GE (NYSE: GE) works on things that matter. The best people and the best technologies taking on the toughest challenges. Finding solutions in energy, health and home, transportation and finance. Building, powering, moving and curing the world. Not just imagining. Doing. GE works. For more information, visit the company's website at www.ge.com.
GE also serves the energy sector by providing technology and service solutions that are based on a commitment to quality and innovation. The company continues to invest in new technology solutions and grow through strategic acquisitions to strengthen its local presence and better serve customers around the world. The businesses that comprise GE Energy—GE Power & Water, GE Energy Management and GE Oil & Gas—work together with more than 100,000 global employees and 2010 revenues of $38 billion, to provide integrated product and service solutions in all areas of the energy industry including coal, oil, natural gas and nuclear energy; renewable resources such as water, wind, solar and biogas; as well as other alternative fuels and new grid modernization technologies to meet 21st century energy needs.
Featured Product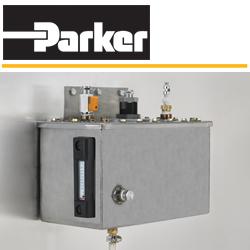 Many 1.5 MW wind turbines use traditional open-loop water/glycol cooling systems. Regular water evaporation in the reservoir elevates the mixture's viscosity, prohibiting cooling of the IGBT and associated critical controls, causing the wind turbine to overheat unless serviced, which in turn means turbine downtime and high maintenance costs. Parker's KleenVent Coolant Evaporation Inhibitor (KV-CEI) is a simple add-on to the legacy cooling system, that eliminates water evaporation in the coolant solution and stops the ingress of airborne contaminants, by enclosing the cooling loop. The KVCEI also removes the need for continuous coolant monitoring during the warm season. Traditional maintenance calls to replenish or rebalance the fluids, take the wind turbine and transformer offline, resulting in significant downtime and revenue loss. Parker's cooling system solution optimizes wind turbine uptime and revenue, reduces maintenance costs and increases overall efficiencies.