Blue Sky Energy Advances Solar & Wind Power Innovation at Santa Cruz Wharf
SANTA CRUZ (December 14, 2011) - Pioneering solar product manufacturer Blue Sky Energy is driving the success of Santa Cruz' Greenwharf Project by donating integral solar power components to a solar panel and wind turbine test bed at the City's wharf. Blue Sky Energy is the only solar manufacturer of the six solicited that came forward with an in-kind donation.

"Blue Sky Energy is eager to contribute to clean technology efforts in academic and community settings, in line with our mission of supporting education, sustainability, and the advancement of clean technology," said Blue Sky Energy VP Marketing and Operations Melanie Cullen.
The Greenwharf Project is a symbiotic partnership formed between the University and City of Santa Cruz that yields both hands-on learning opportunities for students as well as greenhouse gas reductions. The interdisciplinary venture with a campus-wide reach aims to cross-train the sustainability community; the social science students learn the technical principles of renewable energy, while the engineering students explore its socio-economic implications. The pilot program is poised to power electric vehicles, tools and lights, and there are plans to bolster the system with additional solar panels.
"These ideas will spur students to take initial findings and defined needs and apply them to new business models, said City Environmental Coordinator Ross Clark, and Blue Sky Energy's equipment donation has been vital in the success of the Greenwharf Project, helping us achieve our goals and set the stage for additional research projects over time."
The Department of Environmental Planning is, as a result of the Greenwharf Project, actively meeting the goals set forth in its 2008 Climate Action Plan, 8 percent below 1996 greenhouse gas levels by 2020, raised last week to an aggressive 30 percent reduction beginning in 2012.
A platform for investigating new technologies, the Greenwharf Project aims to pave the way for a new generation of clean technology champions, large-scale renewable systems along the California coastline and a society that embraces them.
About Blue Sky Energy
Blue Sky Energy is the trusted, off-grid solar solutions provider with manufacturing operations in the U.S. They offer the largest collection of small-sized MPPT solar charge controllers and pair dynamic solutions with unsurpassed quality and reliability. Thirteen years after introducing the first MPPT product to the clean energy community, Blue Sky Energy maintains its commitment to excellence in personalized customer service, philanthropy, and international relations with distribution to over 33 countries worldwide.
www.blueskyenergyinc.com
About the University of Santa Cruz
UC Santa Cruz is a public university like no other in California, combining the intimacy of a small, liberal arts college with the depth and rigor of a major research university.
http://www.ucsc.edu/
About the City of Santa Cruz's Climate Action Program
The City of Santa Cruz's Climate Action Program was established in 2007 to create and implement a comprehensive plan to meet the City's community-wide greenhouse gas reduction goals. Please explore our web pages to find out what we are doing and how you can join us in our efforts!
http://www.cityofsantacruz.com/index.aspx?page=1108
Contacts
Media: Solar Marketing Group, Marielle Horan, Public Relations Strategist, 415-346-9091 Marielle@solarmarketinggroup.com
Corporate: Blue Sky Energy, Melanie Cullen, V.P. Operations and Marketing, 760-597-1642 Melanie@blueskyenergyinc.com
University of Santa Cruz: Tiffany Wise-West, Greenwharf Project Coordinator, 831-345-1328 Twisewes@ucsc.edu
City of Santa Cruz: Ross Clark, Environmental Coordinator, 831-420-5113 Rclark@cityofsantacruz.com
Featured Product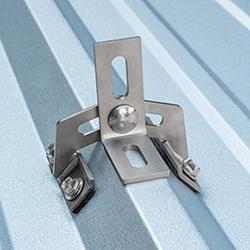 QuickBOLT Low Profile QuickBOLT with Microflashing™ is the industry's affordable, UL Certified Asphalt Shingle mounting system. The Microflashing™ is compressed by the collar on the bolt to create a water-tight seal. With an installation time of less than one minute, the Low Profile QuickBOLT allows installers to complete more jobs.