According to official data from the Ministry of Environment and Water, the state's gross waste output accounts to more than 2.5 million metric tons on a year basis.
Investnet.bg

Bulgaria is a country, that faces serious waste management challenges. The current infrastructure is old, fractional and insufficient. Addressing the issue constitutes a major priority for the Bulgarian government and the planned areas for development include the creation of regional waste disposal systems, as well as the construction and exploitation of large scale waste and wastewater treatment plants (WTP). By the year 2014 the country has to comply with EU regulations and to dispose with new WTP in all agglomeration areas with population over 10,000 people (120 agglomeration areas, 54 WTP are due to be built), as well as in all agglomeration areas with population between 2,000 and 10,000 people (928 agglomeration areas). Additionally, 55 regional waste collecting depots and processing plants also need to be build and set in motion by 2010 (28 of 55 have not been built yet).
According to official data from the Ministry of Environment and Water, the state's gross waste output accounts to more than 2.5 million metric tons on a year basis. Industrial waste represents approximately 70% of the total waste generated, municipal waste accounts for 25% and the remaining 5% is hazardous waste. In perspective - The European Environmental Association (ETC/WMF – UN-PS) estimates, that by 2015 approximately 150,000 cars will be due to undergo recycling yearly in Bulgaria. This tendency outlines prosperous investment opportunities in the sector, as currently the number of cars recycled yearly is less than 15,000.
As of 2009, there is only one municipal solid waste separating & processing plant in Bulgaria located in the village of Shishmatnsi, Plovdiv. The factory facilities are currently undergoing a process of testing, as it is expected, that the plant's full capacity will be reached in the beginning of 2010, approximately 125,000 metric tons yearly. There are 25 plastic-recycling plants in Bulgaria, which share a total load capacity of approximately 74,580 metric tons yearly, eight paper and cardboard recycling plants, with load capacity of 138,000 metric tons yearly, and four glass processing plants with a total recycling volume of 206,000 metric tons yearly. The numbers clearly show that Bulgaria still has a long way to go until reaching the point of responding to the country's needs in the area.
The foundations for the development of the sector have been laid: an established broad framework in coherence with the Environmental Protection Act (EPA) and the Water Act (WA) raised public attention and awareness. The separate waste collection proves to be an expanding and improving initiative. Furthermore, the sector benefits from several financing sources: national funding, OP Environment, programs for Rural Development and Regional Development, as well as from loan funding from the World Bank, EBRD, and EIB.
Featured Product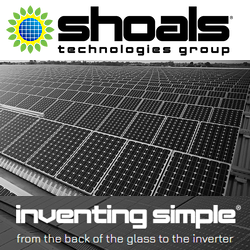 Inventing Simple® isn't just a slogan to us, it's a way of life. Using simple plug-and-play ideology, we revolutionized solar installations in 2003 with our Interconnect System™. Our harnessing system is now the gold standard EPC's use around the world. By using simple ideas, we are making solar energy a more affordable and clean power source for future generations.