• Acquisition part of an Investment by Soitec of more than $150-Million • 200 MW per year Manufacturing Capacity with Room for Future Expansion • Creation of 450 on-site Jobs and More Than 1,000 Indirect Jobs at Full Capacity
Bernin, France, December 16, 2011 — Soitec (Euronext), a world leader in generating and manufacturing revolutionary semiconductor materials for the electronics and energy industries, has purchased a manufacturing facility in Rancho Bernardo, Calif., within San Diego City limits, and will soon begin fitting the factory to produce its concentrator photovoltaic (CPV) modules for the U.S. renewable-energy market. The site, acquired from Sony Electronics Inc., will enable a manufacturing capacity of 200 megawatts (MW) of Soitec's fifth generation Concentrix™ CPV modules and with future expansion to double the capacity to 400 MW per year. This major project for Soitec represents an investment of more than $150-million and will create 450 on-site jobs ─ including employees for the joint venture ─ in the City of San Diego and more than 1,000 indirect jobs at full capacity (200 MW).

Soitec's investment includes the acquisition of a 176,000-square-foot manufacturing center on 14.8 acres of land located within the campus of Sony Electronics' U.S. headquarters. Soitec will begin extensive upgrade of the facilities in early 2012 and plans to have its first phase (100 MW) production line operational by the fourth quarter of 2012. M+W U.S., Inc, a subsidiary of the M+W Group, a leading global engineering and construction partner for technology-based clients and renowned in constructing solar cell manufacturing facilities, has been selected as general contractor for the facility construction work.
Situated inside the San Diego factory will be the joint venture Reflexite Soitec Optical Technology LLC, previously announced last month. This new company will operate its own 100-person manufacturing operation within the facility developing and manufacturing leading-edge silicone-on-glass (SOG) Fresnel lens plates used in Soitec's CPV modules.
"Bringing Soitec's solar manufacturing business here has been an example of successful collaboration between the city, the nonprofit CleanTECH San Diego, the San Diego Regional Economic Development Corporation, SDG&E and the University of California, San Diego," said San Diego Mayor Jerry Sanders. "Soitec's new facility will create hundreds of well-paying jobs and build on San Diego's growing reputation as one of the world's leading clean-technology clusters."
"Soitec's local presence is indeed a welcome boost for our regional economy and will support our company's commitment to help to ensure a sustainable solar future for our customers," said Jessie J. Knight, Jr., SDG&E's chairman and CEO. "This year we have signed a half-dozen renewable energy contracts with solar developers that will use Soitec's highly efficient technology. We will continue to make great strides in securing contracts for utility-scale renewable projects to leverage the ideal solar, geothermal and wind resources in the San Diego County, Imperial County and Baja California region."
"Having already announced our solar projects contracted with San Diego Gas & Electric, it makes perfect sense for us to launch our U.S. manufacturing operations here," said André Jacques Auberton-Hervé, chairman and CEO of Soitec. "With strong support from the mayor and the City of San Diego, we look forward to taking part in the local economy amid the area's large pool of trained and educated high-tech employees, the vibrant business community and the strong cluster of renewable-energy companies. We want to help California meet its Renewable Portfolio Standard, which calls for a third of the state's utility-scale energy production to be generated by renewable sources by 2020."
Soitec's highly efficient, durable CPV systems have enabled the company to plan for more than 300 MW in solar power plant projects throughout the Southwest U.S. including 155 MW in power purchase agreements with San Diego Gas & Electric, approved by the California Public Utilities Commission (CPUC) last month. Additionally, a power purchase agreement for up to 150 MW for the Imperial Solar Energy Center West project, another project that currently proposes to use Soitec's CPV technology, was also approved by the CPUC on December 15. Tenaska Solar Ventures, LLC, an affiliate of independent energy company Tenaska, is developing that project.
Soitec's CPV modules to be manufactured in San Diego have performance characteristics which are specifically designed to benefit large-scale utility power plants to deliver higher efficiency and lower cost of electricity. About Soitec
Soitec is an international manufacturing company, a world leader in generating and manufacturing revolutionary semiconductor materials at the frontier of the most exciting energy and electronic challenges. Soitec's products include substrates for microelectronics (most notably SOI: Silicon-on-Insulator) and concentrator photovoltaic systems (CPV). The company's core technologies are Smart Cut™, Smart Stacking™ and Concentrix™, as well as expertise in epitaxy. Applications include consumer and mobile electronics, microelectronics-driven IT, telecommunications, automotive electronics, lighting products and large scale solar power plants. Soitec has manufacturing plants and R&D centers in France, Singapore, Germany, and the United States. For more information, visit: www.soitec.com.
Featured Product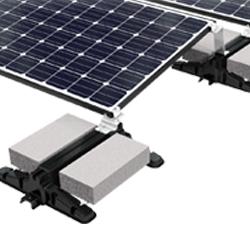 The Power Rail™ Commercial Mounting System is designed with the professional PV solar installer in mind. Both the XD/UD and LD/MD rails feature single tool assembly with the revolutionary patented RAD™ Lock-in-Place bolt for fast and secure module clamping. The high strength marine-grade aluminum rails include an integral wiring channel for securing cables and providing a professional finish.