Leading combination of robust performance and cost effective price
VICTORIA, BRITISH COLUMBIA, CANADA (December 16, 2011) Carmanah Technologies

(TSX: CMH) is pleased to announce the launch of the EG40 and EG80 solar LED
outdoor lighting systems, the latest generation of reliable and
cost-effective solar LED lighting products specifically designed for
developing regions of the world. The EG40 and EG80 feature adaptive lighting
capabilities and a simple top-of-pole design that allows the Series to
deliver leading dollar per kilo-lumen output in the
1000-8500 lumen range. Leveraging award-winning design elements of the
company's EverGENT 1700 and 1500-series products, the EG40 and EG80 systems
offer superior performance and features at a value price. The introduction
of the EG40 and EG80 systems expands Carmanah's existing outdoor solar
lighting portfolio, allowing the company to service cost-sensitive markets
with robust products that maintain market leading performance.
Bruce Cousins, CEO of Carmanah commented, "The new EG40 and EG80 systems
address the need for a reliable cost-effective outdoor lighting solution for
markets with developing infrastructure where standalone solar lighting can
offer a cost effective alternative to traditional AC lighting systems. We
expect the new EG40 and EG80, with all of its major features, to be well
received by governments, private industry and contractors in this market."
The top-of-pole integrated design of the EG40 and EG80 allows for an easy
and rapid installation as well as protection against vandalism. The
EG40 and EG80 design is wind load rated to 241 kph (150 mph) with 3 second
gusts, protecting the system from extreme weather such as hurricane-level
winds. Engineered to prevent theft and vandalism, the
EG40 and EG80 are ideal for deployment in public and private roadways and
area lighting applications.
The EG40 and EG80 engines power high-efficiency LED luminaires that are
available in standard IES distribution types II, III, IV, V, and flood.
Both systems feature a 3-year limited warranty.
Outperforming similar priced competing solar outdoor lighting systems, the
EG40 and EG80 solar outdoor lighting systems are available immediately. For
more information please visit http://www.carmanah.com/outdoor-solar-lighting
or call 1-877-722-8877.
About Carmanah Technologies Corporation
As one of the most trusted names in solar technology, Carmanah has earned a
reputation for delivering strong and effective products for industrial
applications worldwide. Industry proven to perform reliably in some of the
world's harshest environments, Carmanah solar LED lights and solar power
systems provide a durable, dependable and cost effective energy alternative.
Carmanah is a publicly traded company, with common shares listed on the
Toronto Stock Exchange under the symbol "CMH". For more information, visit
www.carmanah.com
Featured Product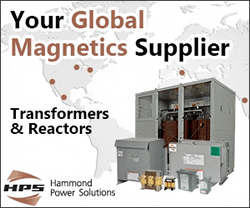 HPS is the largest manufacturer of dry-type transformers in North America. We engineer and manufacture a wide range of standard and custom transformers that are exported globally in electrical equipment and systems. We support solid industries such as oil and gas, mining, steel, waste and water treatment, and wind power generation. HPS leads the industry in these markets through its technical design strength, breadth of product, and manufacturing capabilities, making HPS a stronger company both fundamentally and financially.