Natural Power has now reached a total of 14 fully certified users of the widely used WAsP software.
Leading international renewable energy consultancy group Natural Power has now reached a total of 14 fully certified users of the widely used WAsP software. WAsP (the Wind Atlas Analysis and Application Program) is the wind energy industry's standard software for performing wind flow modelling and analysis for wind farm energy yield assessments in non-complex flow environments.

The number of certified WAsP users employed by Natural Power is the largest of any international wind energy consultancy, and is second overall only to Risø DTU in Denmark, the developers and distributors of the WAsP software. Natural Power's WAsP certified wind analysts are located in the UK, France and the US.
Neil Douglas, Technical Director of Natural Power, commented: "Natural Power has been registering WAsP users since 1996 and we apply the software on client projects worldwide. This is in addition to providing industry leading flow modelling solutions in complex flow environments through the application of our VENTOS Complex Fluid Dynamics service. The fact that our wind resource experts are fully WAsP certified by Risø DTU is an achievement that we are proud of. Having our wind analysts obtain this certification displays our continued commitment to providing our clients with industry leading expertise, and also to the continued professional development of our staff. "
For more information sayhello@naturalpower.com or visit www.naturalpower.com
Featured Product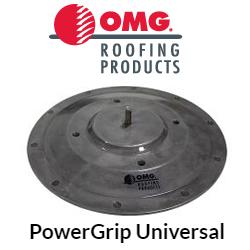 PowerGrip Plus Roof Mount System, a watertight structural attachment system used to secure ballasted solar racks and other equipment to roofs covered with thermoplastic (TPO and PVC) membranes. PowerGrip Plus is designed with wind performance in mind and offers ultimate tensile strength of 2,000 lbf. and ultimate shear strength of 1,075 lbf. Properly installed PowerGrip Plus units reduce rack movement and remaining watertight. PowerGrip Plus units are easy to install, saving both time and labor when compared to alternative options. A wide membrane skirt promotes easy welding in place, and the 15/8 diameter and 1/2 inch tall mount provides an optimal perch for securing brackets or struts. The exposed 1 inch tall and 3/8 inch diameter bolt and mounting stand are made from corrosion-resistant stainless steel and aluminum alloy for superior long-term performance.