Sol, Inc., the leading provider of solar/sustainable LED outdoor lighting solutions, is pleased to announce that Willis McCullough has joined the company as Director of Strategic Accounts.
Palm City, Fla., U.S.A., December 20, 2011 – Sol, Inc., the leading provider of solar/sustainable LED outdoor lighting solutions, is pleased to announce that Willis McCullough has joined the company as Director of Strategic Accounts. McCullough has a proven track record selling sustainable products to key national and international commercial accounts. He has long-standing relationships in the retail, hospitality, energy services and utility industries and is an expert in utility and municipal rebate and incentive programs, which will create excellent benefits in North America for customers purchasing Sol products. As Director of Strategic Accounts, McCullough will work with large strategic commercial customers to inject our solar powered product and highly efficient on grid product into their locations and future locations.

McCullough is a nuclear engineer, has experience in corporate training and is an excellent relationship manager. He most recently held the position of National Program Director for e2s (Energy Efficiency Services) where he developed and implemented national energy upgrade and sustainability plans for nationwide customers. Prior to that he served as a Vertical Market Manager of Sales & Applications for UTC Power / UTC Fuel Cells where he was responsible for designing, integrating and applying products into the industrial, commercial/retail and supermarket industries and where he developed sales and marketing plans for implementation of engineered products and services to nationwide customers. McCullough has also worked for Carrier Corporation, Toshiba International Corporation and Houston Lighting & Power.
"We are excited to attract high caliber talent like Willis to provide a competitive advantage in driving the growth of our commercial markets," said Paul Wickberg, President and CEO of Sol, Inc. "Willis' invaluable sales expertise coupled with a strong foundation in relationship building, management and efficiency make him the ideal candidate to further strengthen our long-term goal of providing superior sustainable lighting solutions to our clients. Willis will undoubtedly help us to expand our on-grid solutions to support the large retrofit market in the broad commercial markets as well. He's a great addition to our team."
With a proven track record of sales and management success, McCullough is well-prepared to assist Sol with strategic account initiatives. "I am extremely excited and anxious to introduce Sol's innovative product in portfolio to strategic commercial accounts," he said. "Every major company is focused on energy and the environment, while there are not many companies and/or products that can make an impact in both those areas or offer the solutions in an economical way as Sol can. Sol has great people, a great vision and nothing but potential."
For more information about Sol please visit www.solarlighting.com or call (800) 959‐1329.
About Sol, Inc.
Sol, Inc. is the world leader in solar LED outdoor lighting solutions with more than 50,000 systems installed in more than 60 countries on six continents. Since 1990, Sol has introduced innovative outdoor solar powered lighting systems that provide unsurpassed levels of illumination and reliability. Sol develops, manufactures and markets commercial and industrial‐grade solar powered lighting systems for a wide range of lighting applications including area and security, street and roadways, signs, billboards, transit and shelter lighting. What makes Sol's products so exciting is that its parking, roadway and pathway solutions have recently reached grid parity in many cases making their solar outdoor lighting systems an alternative energy product where, instead of the extra cost being offset by future years of energy savings, it is simply cheaper to install Sol's solar lights to begin with ‐ and oh by the way ‐ the energy is free!
Featured Product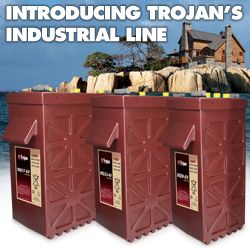 Trojan's deep-cycle batteries provide rugged durability, outstanding performance and long life for use in all types of solar energy installations. With over 90 years of experience, Trojan delivers the world's most reliable and trusted batteries in flooded, AGM, Gel, and Lithium types. These batteries enable solar equipment systems to operate at a peak level of performance in the harshest conditions or the most challenging of locations and are manufactured and tested to IEC standards.