With the holidays fast approaching, fuel cells are helping deck the halls and lighting Santa's way.
With the holidays fast approaching, fuel cells are helping deck the halls and lighting Santa's way.

For almost a decade, fuel cells have provided reliable, emission-free power to keep Christmas tree and other holiday lights all over the world shining bright, without the worry of tripping on the power cord.
Back in 2002, one of IdaTech's portable fuel cell systems was the world's first to power the lights on a holiday tree at the California Environmental Protection Agency (Cal/EPA) Sacramento headquarters. This early demonstration proved so successful that it has become a holiday tradition in California and around the world.
In 2005, the energy efficient LED tree lights for four Christmas trees at the Cal/EPA building were powered by a Freedom Power fuel cell system designed and manufactured by Altergy Systems. In 2006, then California Governor Arnold Schwarzenegger chose a 1-kW Altergy Systems' hydrogen fuel cell to power the lights on the official state Christmas tree at the State Capitol building, the first official state Christmas tree in the U.S. powered by fuel cells. This 55-foot tree had 6,500 lights. Altergy provided a fuel cell for the 2007 and 2008 trees as well. Air Products donated the hydrogen as a gift.
The Christmas tree in Trafalgar Square in London first used a fuel cell to power the lights in 2004, a project sponsored by the BOC Group plc, Johnson Matthey and Plug Power. Other partners in the project included the Greater London Authority, the London Hydrogen Partnership and siGEN. The tree used a 5-kW Plug Power GenCore® 5T to keep it shining 24 hours a day. It was such a success that the partners joined again in 2005. In 2006, the fuel cell powered the crib lights at St Martin-in-the Fields church.
In 2007, the National Zoo in Washington, DC, used a Microcell 1-kW fuel cell system to help power the entry arch to its annual ZooLights holiday lighting display.
In 2008, the trend made its way to the Canary Islands, with a fuel cell lighting up a Christmas tree at the the Plaza de Santa Ana in the Capital, Las Palmas, in Gran Canaria.
And this year, the U.S. Department of Energy's Christmas tree is being powered by a Trulite Hydrocell 150 W fuel cell. On the other side of the pond in Trafalgar Square, a 75 kW unit donated by UPS Systems is powering the star atop the tree.
Fuel cells could power more than just the lights on the tree or other displays. Other holiday-themed applications that could deliver an emissions-free "Silent Night" include powering:
• Santa's sleigh (both for propulsion and as an auxiliary power unit to power the electronic devices onboard (GPS, etc.)
• Rudolph's nose (or a long-lasting sleigh light to give Rudolph the night off!)
• NORAD's Santa's tracking devices
• Blinking cell phone tower warning lights that keep Santa safe in the air
• Elves' power tools
• Macy's (or other department stores) animatronic window displays
• Menorah lights
• Spotlight on the crčche
• Air pump blower fans for inflatable lawn decorations
• Various gifts from electronics to talking dolls
• Hot chocolate warmer
• Leg lamp (fra-gil-e!)
If you can think of more, visit our blog at www.fuelcellinsider.org and share them! Happy Holidays from Fuel Cells 2000!
Featured Product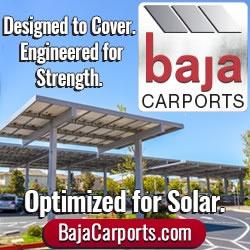 Baja Carports specializes in design-build Solar Support Systems™ for mainframe carports & shade canopies. Our patented product line is designed in-house by Baja engineers. Product structures are pre-fabricated from pre-galvanized high-tensile, light gauge steel, and installed by Baja crews. Carports, RV/boat storage, EV stations, & ground mounts are customized to meet customers criteria. Baja's objective for each Solar Support System™ is to leverage optimal electrical production while maximizing coverage. Baja produces cost-effective carports for commercial businesses.