The award was presented at Oerlikon's Supplier Day held last week at the company's headquarters in Pfäffikon, Switzerland.
FORT COLLINS, Colo, Nov. 29, 2011—Advanced Energy Industries, Inc. (Nasdaq:AEIS) announced today that it has received the 2011 Supplier Award for On-Time Delivery from OC Oerlikon Corporation AG, a leading global supplier of PVD sputter systems. The award was presented at Oerlikon's Supplier Day held last week at the company's headquarters in Pfäffikon, Switzerland.

Yuval Wasserman, president of AE Thin Films, said, "Our most recent supplier award further recognizes Advanced Energy's commitment to customer satisfaction around the world. Our teams in Europe, Asia and North America work in close cooperation with our global customers to ensure consistent delivery so that they can meet high-volume demand from end users. Between February and October of this year, we achieved perfect performance of 100 percent on-time delivery to Oerlikon Systems, which is within the Advanced Technology Segment. This result exemplifies the responsiveness made possible by our best-in-class global operations, and the strong customer relationships we've built over our three decades of power conversion innovation."
Oerlikon Systems produces equipment for advanced nanotechnology, semiconductors and deposition equipment for the optical disc industry used by the world's leading end users. Advanced Energy supplies industry-leading DC and RF power products that are used in Oerlikon's multi-chamber cluster tools for a variety of semiconductor processing applications.
About Oerlikon Group
Oerlikon (SIX:OERL) is a leading high-tech industrial group specializing in machine and plant engineering. The Company is a provider of innovative industrial solutions and cutting-edge technologies for textile manufacturing, drive, vacuum, thin film, coating, and advanced nanotechnology. A Swiss company with a tradition going back over 100 years, Oerlikon is a global player with more than 17,000 employees at over 150 locations in 38 countries and sales of CHF 3.6 billion in 2010. The Company invested in 2010 CHF 239 million in R&D, with over 1 200 specialists working on future products and services. In most areas, the operative businesses rank either first or second in their respective global markets.
About Advanced Energy
Advanced Energy (Nasdaq:AEIS) is a global leader in innovative power and control technologies for high-growth, thin-film manufacturing and solar-power generation. Founded in 1981, Advanced Energy is headquartered in Fort Collins, Colorado, with dedicated support and service locations around the world. For more information, go to www.advanced-energy.com.
Featured Product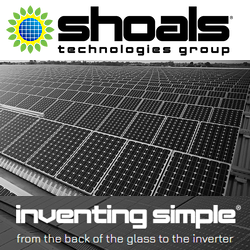 Inventing Simple® isn't just a slogan to us, it's a way of life. Using simple plug-and-play ideology, we revolutionized solar installations in 2003 with our Interconnect Systemâ"¢. Our harnessing system is now the gold standard EPC's use around the world. By using simple ideas, we are making solar energy a more affordable and clean power source for future generations.