Acquisition Will Enhance Siemens Portfolio with New Energy Consulting and Management Services
BUFFALO GROVE, Ill., January 4, 2012 – Siemens Industry, Inc. today announced it has completed the acquisition of Pace Global Energy Services, LLC in Fairfax, Va. Financial details were not disclosed.

The acquisition of Pace Global supports Siemens strategic commitment to enhance enterprise value for its global clients by truly optimizing energy and resource efficiency. Pace Global's deep knowledge of energy markets, its experience with C-Suite decision support and its commercial solutions—including energy and carbon management (ECM) capabilities—are a natural fit with Siemens sustainability and energy management solutions. This creates a valuable, useful and seamless solution set that supports both the executive decision process and operating efficiencies.
"Sustainability and energy efficiency are top priorities for enterprises and municipalities," said Andreas Schierenbeck, president of the U.S. Building Technologies Division of Siemens. "With a current portfolio ranging from energy services to performance contracting, we have expanded our capabilities with the addition of energy consulting and procurement services. By combining both companies' market-leading solutions, Siemens has formed an end-to-end energy consulting and project delivery capability that is unique in the market, and is a perfect complement to the realities of running today's business operations."
Pace Global has a 36-year history providing energy services to a global portfolio of clients. The company manages more than $5 billion in energy spend for 200 clients around the world, oversees a risk portfolio valued at approximately $10 billion, and supports the development, acquisition, and financing of over $100 billion of energy assets worldwide. Pace Global combines in-depth industry knowledge with commercial, technical, financial, and regulatory expertise to help organizations maximize enterprise value and manage risk in today's complex energy and environmental markets.
Pace Global will integrate within the Siemens Building Technologies division, but will continue to operate as a separate operating unit. Timothy F. Sutherland will continue to lead the operating unit after the acquisition, and Pace Global's executive staff and employees will remain intact. With offices in Fairfax Virginia, Houston Texas, Columbia South Carolina, London and Moscow, Pace Global provides international reach and integrated access through the company's experience, knowledge base, tools and consulting services for clients in more than 60 countries around the world.
"The purchase of Pace Global allows us to extend our reach into the energy market and enhance our current building automation portfolio of energy management solutions and services to both the private and public sectors," said Dave Hopping, Vice President of the U.S. Siemens Building Automation business unit. "Together, Siemens and Pace Global have established a recognized and client-valued position in the marketplace."
Pace Global's unique business model includes the combination of strategic enterprise consulting with ECM. This supports the Siemens objective of helping solve complex energy-related problems through resource planning, sustainability and energy master planning, risk management and regulatory guidance. This solution set also includes infrastructure development support and provides utility spend and billing, energy purchasing advisory services, carbon management and tracking, and energy asset management.
Pace Global is a leading Energy Consulting and Management Company. We combine deep industry knowledge with commercial, technical, financial, and regulatory expertise to help organizations maximize value and manage risk in today's complex energy and environmental markets. For more than 35 years and in over 60 countries, we have worked closely with our clients to define strategies and implement solutions. We offer a unique, integrated perspective our clients have come to trust, which we call the Power of Integration. For more information, please visit our website www.paceglobal.com.
Siemens Infrastructure & Cities Sector, with approximately 87,000 employees worldwide, offers sustainable technologies for metropolitan areas and their infrastructures. Its offerings include complete traffic and transportation systems, intelligent logistics, efficient energy supply, environmentally compatible building technologies, modernization of the way power is transmitted and distributed, and smart consumption of electricity. The sector is comprised of the Rail Systems, Mobility and Logistics, Low and Medium Voltage, Smart Grid and Building Technologies Divisions as well as Osram Sylvania. For more information, visit www.usa.siemens.com/infrastructure-cities.
The Siemens Building Technologies Division is the world's market leader for safe and energy efficient buildings ("green buildings") and infrastructures. As a service provider, system integrator and product vendor, Building Technologies has offerings for building automation, heating, ventilation and air conditioning (HVAC), fire protection and security. For more information, visit http://www.usa.siemens.com/buildingtechnologies.
Featured Product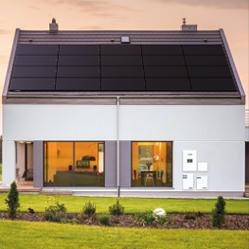 The Q.Home+ ESS HYB-G1 energy storage solution offers scalable storage capacity from 4.5 kWh up to 18.9 kWh and comes in a modular design for easy and fast installation. The system is offered in both DC-coupled and AC-coupled configurations and can connect up to 3 batteries in series using only one inverter and battery management system (BMS). The system includes an integrated backup power function for 100% of the rated inverter output to support critical loads in the event of power failure and offers remote monitoring using the QHOME+ web portal or QHOME+ ESS mobile app.