GreenPeak Technologies new Rf4CE radio technology helps solve the challenge of monitoring and managing solar panel arrays for commercial and residential applications. The GreenPeak solution allows solar panel builders to comply with new upcoming legal requirements.
SOLAR PANEL MONITORING AND CONTROL POWERED BY GREENPEAK CHIPS

ADVANCED AND AFFORDABLE WIRELESS MONITORING OF DOMESTIC AND COMMERCIAL SOLAR PANELS PROVIDES INFORMATION ON ELECTRICITY GENERATION AND INDIVIDUAL PANEL MANAGEMENT
Utrecht – 05 Jan 2012 – GreenPeak Technologies, a leading fabless semiconductor company, today announced a wireless monitoring and control system solution for solar panel installations that will allow individual panel parameter tracking and control.
Photovoltaic solar panels are increasing in popularity and users need accurate information of their solar energy installation. Currently, most residential solar panel systems only provide energy information on a monthly basis and do not allow individual panel monitoring. The Smart Junction Box reference design utilizing GreenPeak wireless chips provides a solution to monitor solar systems in more detail and to control the chain from a central unit or remote device.
The GreenPeak solution allows solar panel builders to comply with new upcoming legal requirements requiring that solar panels can be individually switched off in case of calamities, as high DC voltages from a string of panels on a rooftop can cause danger for emergency services or fire responders.
By adding wireless Smart Junction Boxes on every individual panel, up to the minute status information on electricity generation of each panel can be provided and allows the operator to switch off individual panels or panel substrings for optimized overall solar panel system performance. Performance metrics enable system owners and service provider to actually monitor the condition of the solar panels in order to properly schedule maintenance and cleaning.
The data collected from each individual panel can also be shown in a configurable GUI software application. When a problem in the solar panel system occurs, performance gradually declines or suddenly drops, remote diagnosis and controlling via a mobile App on smart phone can be one of the use cases.
GreenPeak provides communication controller chips and a complete solar panel control reference design to be integrated in the next generation solar panel monitoring and controlling systems.
Cees Links, Founder and CEO of GreenPeak Technologies states: "Solar power is emerging as the number one competitive renewable energy resource. Improvement in the efficiency of solar systems and the need for a more developed understanding of solar panel performance, tracking and maintenance becomes increasingly important because of the rapid deployment of solar technologies in the marketplace. GreenPeak solutions for wireless monitoring, measuring and controlling individual panels, will enable the solar industry to create more efficient and more cost effective solar systems.
For more information, please visit the GreenPeak booth at International CES – Las Vegas – 10-13 January 2012 – South Hall 1 – booth 21318 in the ZigBee Pavilion or make an appointment with our sales team.
About GreenPeak Technologies
GreenPeak Technologies is a fabless semiconductor company and is a leader in highly integrated IEEE 802.15.4/RF4CE silicon solutions for consumer electronics.
GreenPeak is headquartered in Utrecht, The Netherlands and has offices in Belgium, Japan and Korea.
GreenPeak is backed by venture capitalists: Gimv (Belgium), DFJ Esprit (UK), Robert Bosch Venture Capital (Germany) and Allegro Investment Fund (Belgium).
For more information, please visit www.greenpeak.com
Press Contact GreenPeak
Elly Schietse
elly.schietse@greenpeak.com
Tel +32 52 45 87 30
Cell +32 479 76 18 25
Press contact GreenPeak - USA
SRS-Tech PR for GreenPeak
Mark Shapiro
Tel +1 619 249 7742
mshapiro@srs-techpr.com
Featured Product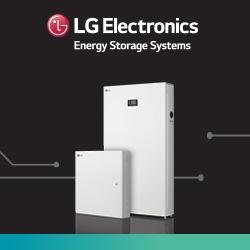 LG Solar is transforming today's solar landscape, offering precision-manufactured and high-efficiency solar panels for homeowners who demand high performance, reliability and consistently strong energy yield from a brand they can trust. LG modules feature outstanding durability, appealing aesthetics and high-efficiency technology, backed by a limited 25-year product, performance and labor (up to $450) warranty. Homeowners who purchase LG Solar modules know they're protected by a diversified global brand.