NANJING, China, January 6, 2012 -- ET Solar Group Corp. ("ET Solar"), a China-based vertically integrated producer and provider of Photovoltaic ("PV") modules and related solutions to the global solar market, today announces its supply of 600KW PV modules to various rooftop solar energy systems in the United Kingdom.
Located in Newcastle, the systems were installed on 30 commercial rooftops of Your Homes Newcastle (YHN), an entity that manages properties on behalf of Newcastle City Council (NCC). Grid connected in October this year, the project was designed and installed by OPUS Green, a UK commercial project developer focusing on renewable energy solutions.

Mr. Dennis She, Chief Executive Officer of ET Solar, commented: "We are pleased to have established business relationship with OPUS Green and supplied PV modules for NCC's solar project. The collaboration demonstrates our continued commitment to expand the role that we play in facilitating UK PV market growth."
Chris Cassells, managing Director of OPUS Green, said: "We are pleased to have selected ET Solar as the module supplier for our solar projects. Impressed by its excellent product quality and customer services, we very much look forward to expanding our working relationship with ET Solar in the UK market next year."
John Lee, Chief Executive of YHN, added: "This is a great example of a council taking a proactive approach to reduce its carbon footprint by adopting renewable energy solutions. Furthermore, it is also one of the first large commercial solar schemes in the region to benefit local residents for a clean source of energy and a better environment it offers."
Featured Product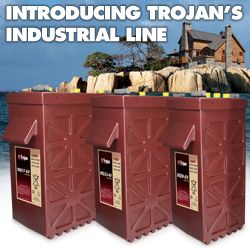 Trojan's deep-cycle batteries provide rugged durability, outstanding performance and long life for use in all types of solar energy installations. With over 90 years of experience, Trojan delivers the world's most reliable and trusted batteries in flooded, AGM, Gel, and Lithium types. These batteries enable solar equipment systems to operate at a peak level of performance in the harshest conditions or the most challenging of locations and are manufactured and tested to IEC standards.