Following the announcement of figures from DECC which demonstrated a 25% rise in heating oil prices during 2011, now could be exactly the right time to consider renewable energy in the form of heat pumps
RENEWABLE SOLUTION FOR OVER 1 MILLION HIT BY OIL PRICE RISES

The New Year is traditionally seen as a time for change and in light of recent figures released by the Department for Energy and Climate Change (DECC), this may never have been more true if you are one of the million plus people using oil to heat your home.
According to DECC, heating oil rose by a massive 25% during 2011 eclipsing the considerable gas and electricity price rises of 9.2% and 4.5% respectively. The net result of these increases is that more and more people are struggling to pay their fuel bills and being plunged into fuel poverty.
After a series of cold winters in recent years, many of the 1.1 million householders who rely on oil for their heating needs may well be asking themselves just how they can avoid similar rises in 2012. Andrew Sheldon, Managing Director at Ice Energy Technologies firmly believes the answer lies in renewable energy.
"Heating oil is traditionally prone to volatile price conditions which can unfortunately leave people struggling during the winter when they need their heating the most. As well as the overall cost, unreliable deliveries can leave people without the fuel they need or in some cases force them to pay more for quicker deliveries" explains Mr. Sheldon.
"What people may not be aware of though is the availability of renewable energy systems such as Heat Pumps. These systems provide a complete heating and hot water solution by extracting heat from the ground or the air and are so efficient they could save homeowners over 60% on their fuel bills."
"Figures from the Department of Energy & Climate Change show the price of oil has now exceeded the previous peak of 2008. Our own analysis shows that if prices continue in the same vein, it's quite possible the cost of refilling an oil tank could well exceed £1,000 by 2016 which is extremely alarming."
Mr. Sheldon also believes that quite apart from the available cost savings, proposed Government incentives only strengthen the argument for installing renewables. "The launch of the Renewable Heat Incentive later this year aims to reward adopters of alternative energy solutions via tax-free, guaranteed, annual payments. This means homeowners can not only save money by reducing their fuel costs they can also receive an income for doing so making the overall proposition for renewables extremely compelling, especially in the light of such sustained price increases."
Featured Product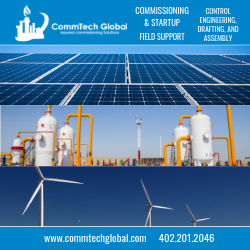 CommTech Global Solutions, LLC, provides professional and reliable commissioning services to customers in all realms of the energy industry. We blend our skills in engineering and technology with innovative business models, offering a complete range of services to assist you for a successful and in compliance operational startup. Consolidation of all our service domains gives our clients a comprehensive set of expertise and far-reaching experience on each project.