In recent months, major purchases and significant milestones are helping to speed fuel cell buses into the spotlight and onto the roadway.
(Washington, DC – January 10, 2012) For years, fuel cell buses have been silently running in transit fleets of more than 20 cities around the world, reducing emissions while providing reliable service to passengers. In the U.S. alone, there are more than 25 fuel cell buses in service or on order in 11 different states. In recent months, major purchases and significant milestones are helping to speed fuel cell buses into the spotlight and onto the roadway.

In addition to being super quiet, fuel cell buses offer greater fuel efficiency and zero emissions. Recent developments include:
• UTC Power's latest generation PureMotion® System Model 120 fuel cell powerplant for hybrid-electric transit buses surpassed 10,000 operating hours in real-world service with its original cell stacks and no cell replacements. The fuel cell system is aboard an Alameda-Contra Costa Transit District (AC Transit) bus operating in the Greater Oakland, California, area.
• In Canada, the 20-bus fleet operated by BC Transit powered by Ballard Power Systems' fuel cell modules recently surpassed 1 million miles (1.6-million kilometers) in two years.
• Ballard Power Systems also received several major orders to supply its FCvelocity™ HD6 fuel cell power modules to fleets, including 25 buses for Sao Paulo, Brazil and 21 buses in various European cities. Both orders are planned to be delivered in 2012. Ballard also received an order for three fuel cell modules to power hybrid fuel cell buses in London, England. The three buses will join five existing fuel cell buses for revenue service in Transport for London's (TfL) fleet.
• Hamburger Hochbahn AG has acquired four Mercedes-Benz Citaro FuelCELL Hybrid buses through the German "NaBuZ demo" project that promotes sustainable bus systems. Three more buses will be delivered next year.
• A "Buy America"-compliant fuel cell bus was delivered by Ballard and partners to SunLine Transit Agency. SunLine will also receive two new fuel cell hybrid buses, funded under the Federal Transit Administration's (FTA) "Transit Investments for Greenhouse Gas and Energy Reduction (TIGGER)" program.
• The FTA National Fuel Cell Bus Program awarded the Center for Transportation and the Environment (CTE) $6.42 million for six projects and CALSTART $10.17 for two projects, including fuel cell buses for California, Chicago, Austin, Texas, and Birmingham, Alabama.
• Connecticut Transit (CTTransit) was awarded $5,702,298 to install a stationary fuel cell at its New Haven Division Bus Maintenance Facility. The grant was awarded through the FTA's TIGGER program. CTTransit now has five fuel cell buses in its fleet, with one in operation since 2007.
• Toyota Motor Corporation (TMC) and Hino Motors, Ltd. provided a FCHV-BUS, a fuel cell hybrid bus for a commercial bus route between central Tokyo and Tokyo International Airport (Haneda Airport) run by Airport Transport Service Co., Ltd.
For a complete listing of fuel cell buses around the world, Fuel Cells 2000 offers both the U.S. and International Fuel Cell Bus Charts. For more information on the projects listed above or fuel cells in general, please visit www.fuelcells.org.
Featured Product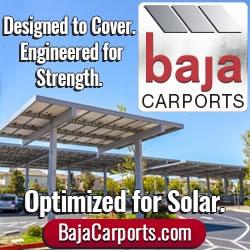 Baja Carports offers an extensive solar support system product line customized to customers' site specifications by in-house engineers, meeting their parking lot coverage, plus optimal PV production needs. Baja's Full Cantilever Tee is often paired with its Semi and Full Cantilever carports to meet live/loads up to 60psf and wind speeds to 160mph. All Baja products are pre-fabricated, bolted connections, pre-galvanized structural steel for fast on-site installation and project aesthetic requirements."