The system is scalable from a single wind farm to large multisite wind farms.
Leading international renewable energy consultancy Natural Power announces this week the release of WindManager – a groundbreaking wind farm portfolio information system increasing profitability of wind farm operations - to the US market at the AWEA Wind Project Operations, Maintenance & Reliability Seminar in San Diego, California.

WindManager is a turbine independent system based on latest international standards such as IEC 61400-25 and RDS-PP. The system is scalable from a single wind farm to large multisite wind farms. The system captures real-time data, presenting availability, losses and key performance while supplying tools for analysis, effective work processes and fact based decisions. All processes are in place to increase profitability of wind farm operations.
WindManager provides customers with four modules for effective wind farm operations:
Monitoring; Turbines are connected to a central system, all data is stored and visualised in a map view, trends can be monitored and preconfigured reports summarise performance and energy production against targets
Analysis; Wind farm personnel can perform stop analysis, loss analysis and understand all downtime issues as they arise
Operations Management; Work scheduling, resourcing, and collaboration across teams can be held daily or weekly
Expertise; Access to system API, data management tools, and tools for extracting performance data to MatLab allows further research and analysis to be performed in house
WindManager is brought to the US wind energy market exclusively by Natural Power in collaboration with Operations Management Software provider, Baze Technology, which has a long track record of deploying the system for wind power as well as other industries. Their client base includes offshore wind farm Sheringham Shoal for Scira Offshore Energy Ltd, Arise Windpower's portfolio in Sweden and others.
Natural Power offers WindManager in conjunction with their existing suite of wind farm management tools including WindCentre™, a 24/7 operations control room which uses Natural Power's Melogale™ data analysis platform, ForeSite™ for wind farm energy forecasting and SeaPlanner™ for offshore GIS, site and data management. These tools, coupled with Natural Power's site management experience on 70+ wind farms (1.5GW) of operating wind farms (some 26% of the UK's operational installed capacity), ensures client's wind farm assets are maintained and operated to maximise revenue and minimise downtime, all to the highest Health & Safety standards achievable.
Scott Mackenzie, Asset Management Director at Natural Power commented: "WindManager has been successfully operating in the UK and Europe for over a year now, so we are very pleased to be extending these services to the US market. This product helps wind farm owners and operators experience a real time view of their assets, with customers benefitting from a range of additional tools from energy forecasting to independent operational site control."
Jim Adams, President of North American Operations at Natural Power commented: "Our real world experience of managing sites helps ensure WindManager is designed with efficient operations and maintenance at its heart. Launching WindManager in the US is the natural next step in the evolution of Natural Power's offerings to this market."
For more information sayhello@naturalpower.com or visit www.naturalpower.com
Featured Product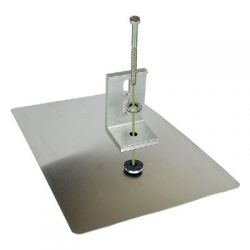 The GreenFasten™ - GF1 system utilizes the patented watertight technology EcoFasten Solar® is known for. The flashing is fit with our EPDM rubber bushing and when used with a compatible EcoFasten Solar compression bracket (milled with countersink), a watertight seal is created, which protects the integrity of the roof. Requiring just a single fastener (lag bolt or self-drilling), GreenFasten provides the fastest install in the industry and will not void roofing manufacturer's warranties. Backed by IAPMO certification, GreenFasten delivers a mounting solution for all new or existing (retrofit) composition shingle roofs, and is the most cost-effective solution available. Like all of the solar roof mount solutions in our line of products, GreenFasten is made in the USA using recycled materials.