Utilities, Investors, Project Developers to Discuss Industry Impact of Uncertain Investment Tax Credit Cash Grant Future
With the recent expiration of the nation's renewable energy investment tax credit (ITC) cash grant, Solar Power Generation USA (www.solarpowergenerationusa.com) announced today that domestic utilities, investors and project developers across the industry will meet in Las Vegas to share forecasts and insights, and to discuss the steps required for the US to lead the global solar market. Veteran executives from Brightsource Energy, Duke Energy, First Solar, Sempra Generation, Southern California Edison, Tucson/UniSource Energy, and dozens more are planning to attend and speak. Solar Power Generation USA, the award-winning conference on large-scale utility solar in the US, may answer if – and how – the domestic solar industry can maintain record growth as federal support wanes.

"While the US has become a major player in the global solar industry, we can't ignore the impact that letting this tax credit expire will have on the sector's continued growth in America," said Laura Dinnewell, Director of Solar Power Generation USA. "Our sessions will provide a forum for utilities, project developers, and equipment manufacturers to discuss key factors that determine investment and new project planning."
The Solar Energy Industries Association credits the current 30 percent tax credit or cash grant with enabling more than 1,100 solar installations in 42 states and creating a 100 percent growth in US-based solar investments in 2010. The Section 1603 Treasury Program was developed as part of the American Recovery and Reinvestment Act, but is set to expire December 31, 2011 unless the US Congress extends the legislation.
Named the 2011 "Best American Conference" by the Conference Awards, Solar Power Generation USA will feature more than 60 subject-matter experts speaking across four dedicated channels: Concentrated Solar Power (CSP), Photovoltaic (PV), Concentrated Photovoltaic (CPV), and Operation and Maintenance (O&M). Hundreds of industry insiders will decide the future of solar in the US during the event, which runs January 31 through February 2 in Las Vegas.
More information on the 2012 SPG agenda, awards, and registration for utilities, attendees, and media can be found at www.solarpowergenerationusa.com, by following SPG on Twitter at @SolarPowerGenUS, and by joining the LinkedIn Solar Power Generation USA 2012 group.
Featured Product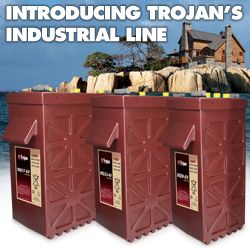 Trojan's deep-cycle batteries provide rugged durability, outstanding performance and long life for use in all types of solar energy installations. With over 90 years of experience, Trojan delivers the world's most reliable and trusted batteries in flooded, AGM, Gel, and Lithium types. These batteries enable solar equipment systems to operate at a peak level of performance in the harshest conditions or the most challenging of locations and are manufactured and tested to IEC standards.