Arizona University's research center turns to SOLON SOLquick rooftop solution for simple, fast installation
TUCSON, Ariz.--(BUSINESS WIRE)--SOLON Corporation, one of the largest providers of turnkey solar power plants in the U.S., today announced the installation of a 10 kilowatt (kW) pilot project of the SOLquick commercial rooftop solution at Biosphere 2, a unique ecological research and teaching facility located north of Tucson.

"The Biosphere 2 is a home for research, outreach and education about our Earth"
Installed on the roof of the Biosphere 2's conference center, the SOLquick installation will provide clean energy to help power the facility. Together, SOLON and the Biosphere team will develop a solar learning center based on the system, which SOLON will continue to monitor for one year, to continue training, time trials and research, and to ensure all design functions are met.
SOLquick's integrated unit ships directly to the work site with the laminate and racking as one. Requiring no tools, installation time is reduced by more than 85 percent. Weighing less than 2.8 pounds per square foot, SOLquick offers a lightweight solution for customers like the Biosphere to incorporate solar into their energy portfolio through their roof.
To view video of the installation of SOLquick at Biosphere 2, visit: http://www.youtube.com/watch?v=7o5vAFxILAc
"SOLON is pleased to be working with the Biosphere 2, which shares our commitment to promoting solar in the community," said Dan Alcombright, CEO and President of North America for SOLON. "The Biosphere's mission of advancing research and understanding resonates with SOLON's heritage of innovation, and we are glad to be working with them to advance the solar industry."
"The Biosphere 2 is a home for research, outreach and education about our Earth," said Biosphere 2 Sustainability Coordinator Nathan Allen. "Innovative products like SOLON's SOLquick take us another step closer to bringing solar into homes and businesses. SOLquick's fast installation allowed us to quickly bring solar to our facility, and we look forward to collaborating on research that advances solar technology."
About SOLON Corporation
SOLON Corporation (www.SOLON.com) is a leading provider of utility-scale and large commercial photovoltaic (PV) system solutions to the North American market. SOLON delivers complete and cost-effective turnkey PV systems to its partners with a streamlined approach from project development, design and construction to financing and operation. With NA headquarters in Tucson, AZ and offices in Phoenix and San Francisco, SOLON is driven by a passion for innovation and a commitment to providing superior solar solutions with unrivalled quality and reliability.
Featured Product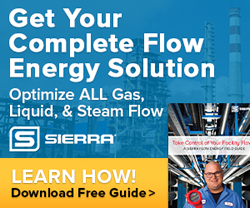 Download Flow Energy Guide - Written by Engineers For Engineers. Learn how to save on energy costs by optimizing your facility flows that impact costs like compressed air, natural gas, steam, and hot or chilled water.