Wide Area Monitoring Technology Enables Operators to Monitor and Analyze Power Grids across Large Geographical Areas -- Early Warning and Diagnosis of Grid Anomalies Can Help Prevent Large-Scale Blackouts -- GE's Multilin™ P30 Phasor Data Concentrator Enables Faster Decision Making and Improves the Situational Awareness of the Operators
MARKHAM, ONTARIO—January 11, 2012—GE Energy (NYSE: GE) today announced the release of an enhanced wide area monitoring solution designed to improve the way utilities monitor and analyze power over a large geographic area. GE is offering a new secure, high capacity Phasor Data Concentrator (PDC), Multilin™ P30, along with enhanced Phasor Measurement Units (PMUs) to provide faster, more accurate information for better decision making while reducing ownership costs through easy integration and deployment.

A utility's wide area monitoring system and dynamic disturbance analysis capabilities are key processes to ensuring power system disturbances on the grid don't become outages across a large geographic area. With the enhanced solution, operators can make faster, more informed decisions and improve post-event analysis. In addition, utilities can reduce infrastructure installation and operation costs by more than 40 percent by simultaneously reporting synchrophasors for protection and metering applications from a single PMU.
"One of the greatest benefits that wide area monitoring technologies can deliver is the ability to prevent widespread blackouts in which different interconnected systems are out of balance," said Juan Macias, general manager, grid automation for GE's Digital Energy business. "The key is having high speed data and analyzing capabilities for faster system adaptation. GE's enhanced wide area monitoring solution enables users to have a better indication of grid stress, which allows them to begin corrective action sooner and help maintain system reliability."
Designed to natively support and adhere to the latest standards, such as IEEE C37.118 and draft standards, such as NERC PRC-002-2, GE's wide area monitoring solution allows utilities to seamlessly deploy dynamic disturbance recording systems.
With built-in advanced security features, including role-based access control, secure firmware upgrades and encrypted data transmission, utilities are able to easily integrate these GE devices into their existing NERC-CIP environments.
GE's PDC and enhanced PMUs are part of a large array of GE's grid technologies that are designed to increase network stability and reliability, helping to improve efficiency across the electrical grid, from demand management technologies that allow consumers to control their energy usage to industrial scale technologies designed to help grid operators meet high demands and increase efficiency. For more information please visit: http://www.gedigitalenergy.com.
About GE
GE (NYSE: GE) is an advanced technology, services and finance company taking on the world's toughest challenges. Dedicated to innovation in energy, health, transportation and infrastructure, GE operates in more than 100 countries and employs about 300,000 people worldwide. For more information, visit the company's Web site at www.ge.com.
Featured Product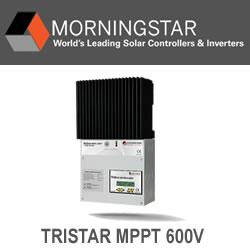 Morningstar's TriStar MPPT 600V charge controller leverages Morningstar's innovative TrakStarâ"¢ MPPT technology and our 20+ years of power electronics engineering excellence, to enable the widest input operating voltage range available from a solar array, wind turbine or hydro input. This controller's standard and DB versions are for off-grid applications, and the TR versions were developed to enable retrofitting grid-tied systems with battery backup.