28-30 March 2012, Sofia, Bulgaria. Organizer: Via Expo.
From 28 until 30 March 2012, the South-East European Forum will gather key industry players on a global scale in Sofia, Bulgaria. Strong international presence, excellent opportunities for how-how transfer and networking, vast promotional support by 100 international and local media and branch associations – that all features the event, organized by Via Expo. It includes in its format a Congress and Exhibition on Energy Efficiency and Renewable Energy (EE & RES), SEE Solar Exhibition and 'Save the Planet' - Conference and Exhibition on Waste Management, Recycling and Environment.

The European Commission's Energy Roadmap 2050 aims a very high share of RES in gross final energy consumption (75% in 2050) and a share of RES in electricity consumption reaching 97%. The other ambitious target is the landfills to be banned in 9 years - about 3 billion euro per year is the value of materials which can be got from reuse. The 'green wave' will not pass South-East Europe. The renewable energy and waste sectors in the Region are in need of expertise, technology and equipment. In view of the global changes, the South-East European Forum will outline good business opportunities in this part of Europe and promote best environmental practices, the implementation of which will decarbonise the local economy.
Over 50 % of the area in 2012 will be covered by foreign exhibitors from Austria, China, France, Germany, Italy, Poland, Romania, Spain, Switzerland, etc. The organizer Via Expo expects over 7 000 professional visitors to get involved.
The EE & RES Congress
High-level speakers from the European Forum for Renewable Energy Sources, Euroheat & Power, World Alliance for Decentralized Energy, European Council for an Energy Efficient Economy, European Renewable Energies Federation, etc. will discuss legislation, good practices and technological developments related to green energy. The EE & RES Project Financing Day is the emphasis in the program. There will be 2 panels: Arranging Construction & Development Project Financing (Debt and Equity) and Arranging Debt and Equity for Operational Projects and Assets such as Existing Buildings. The Austrian Workshop will present EE projects implemented in industry, their results and the Austrian experience in the subsidy schemes in the industrial sector. pvXchange and Via Expo organize the 1st PV Discussion Forum 'Photovoltaics'.
The EE & RES and SEE Solar Exhibitions
The exhibitors working in the entire spectrum of renewables will be able to create close ties with new partners. Alukoenigstahl, Canadian Solar, Diehl AKO Stiftung, ETEM, Fronius International, Global Wind Power, Hewalex, juwi Solar, KPV Solar, kWpower, LCS Solarstrom, Neon Energy, Power One, REC Solar, Refusol, Sky Solar, Solarzentrum Allgau, Solea, Sputnik Engineering, Vestas - that is a part of the exhibitor list so far.
'Save the Planet' - Waste Management, Recycling, Environment
For the second time Austria, one of the international leaders in environmental technology, is a focus country of the event and there will be an Austrian Pavilion. EREMA Engineering Recycling Maschinen und Anlagen, IFE Aufbereitungstechnik, Polytechnik Luft - und Feuerungstechnik, Recycling Bulgaria, etc. will showcase at the Exhibition recycling systems, screening machines, magnetic separators and biomass heating equipment.
The 3 day Conference will engage waste management solution providers, municipality and NGOs representatives in stimulating discussions over waste prevention, management, recycling, landfilling and energy recovery. A focus will be put also on the public private-partnerships as they are the best scheme used to finance recycling facilities and attract investors. Via Expo has invited speakers from over 20 countries from the International Solid Waste Association, European Network of Environmental Professionals, Confederation of EU Waste-to-Energy Plants, Association of Cities and Regions for Recycling and Sustainable Resource Management, etc. A workshop 'Italian Integrated Waste Management Experience', organized by the Italian Chamber of Commerce in Bulgaria, will be held on the first event day. The Round Table with municipality representatives will focus on the problems and solutions for improvement of waste management.
The great business atmosphere will generate professional contacts and knowledge transfer which will turn good ideas into real results.
Organizer: Via Expo, Bulgaria, T/F +359 32 960 011, 945 459
E office@viaexpo.com | W www.viaexpo.com
Featured Product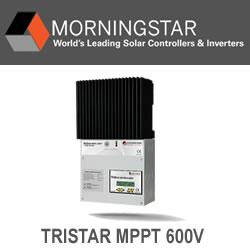 Morningstar's TriStar MPPT 600V charge controller leverages Morningstar's innovative TrakStar™ MPPT technology and our 20+ years of power electronics engineering excellence, to enable the widest input operating voltage range available from a solar array, wind turbine or hydro input. This controller's standard and DB versions are for off-grid applications, and the TR versions were developed to enable retrofitting grid-tied systems with battery backup.