World's largest commercial CIS thin film solar installation
SANTA CLARA, Calif.--Solar Frontier and enXco, an EDF Energies Nouvelles Company, announced today that they have signed a module supply agreement for up to 150 megawatts peak (MWp) of Solar Frontier's CIS solar modules. A firm order for 26 MWp was completed and delivered in the last quarter of 2011 for the Catalina Solar Project located in Kern County, California. When completed, the project is set to become the world's largest CI(G)S installation and will rank among the largest solar installations of any type globally.

"We are excited to deploy Solar Frontier's thin film technology"
The plant will be built in two phases – the first phase of approximately 60 MWp is targeted to go online by the end of 2012 and the remainder of the project by June 2013. The plant will generate enough clean energy to power the equivalent of about 35,000 homes annually and will offset about 74,000 metric tons of greenhouse gas emissions every year.
"This is a landmark moment not only for Solar Frontier but the CI(G)S industry as a whole," said Gregory W. Ashley, chief operating officer of Solar Frontier Americas. "We have demonstrated successfully that the unique characteristics of CIS technology are compelling to major customers by delivering more KWh over the lifetime of a project for a lower cost. We see this project as a launch pad for ever greater CIS achievement in the United States and across the world. We are pleased to work with enXco, which has shown its commitment to the industry by continuing to develop and build utility-scale solar projects."
"We are excited to deploy Solar Frontier's thin film technology," said Kristina Peterson, Vice President, Solar Business Unit for enXco. "With its gigawatt-scale production capacity, and favorable energy production profile, Solar Frontier and its parent company Showa Shell Sekiyu, have positioned themselves through a long and proven development process to be able to meet the supply expectations required for such large utility-scale projects."
About Solar Frontier
Solar Frontier K.K., a 100% subsidiary of Showa Shell Sekiyu K.K. (TYO:5002) ("Solar Frontier"), has a mission to create the most economical, ecological solar energy solutions on Earth. Building on a legacy of work in solar energy since the 1970s, Solar Frontier today develops and manufactures CIS (denoting copper, indium, selenium) thin-film solar modules for customers in all sectors around the world. Solar Frontier's gigawatt-scale production facilities in Miyazaki, Japan, integrate compelling economical and ecological advantages into every module: from lower energy requirements in manufacturing to the higher overall output (kWh) of CIS in real operating conditions. Solar Frontier is headquartered in Tokyo, with offices in Europe, the U.S.A., and the Middle East. Visit www.solar-frontier.com for more information.
Featured Product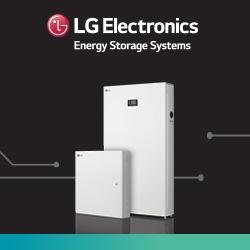 LG Solar is transforming today's solar landscape, offering precision-manufactured and high-efficiency solar panels for homeowners who demand high performance, reliability and consistently strong energy yield from a brand they can trust. LG modules feature outstanding durability, appealing aesthetics and high-efficiency technology, backed by a limited 25-year product, performance and labor (up to $450) warranty. Homeowners who purchase LG Solar modules know they're protected by a diversified global brand.