The event focused discussions on the issues and opportunities in geothermal including how to accelerate the slow growth of the industry, whether Congress will extend tax incentives, how to improve project economics, and more.
SAN FRANCISCO (January 19, 2012)— Two hundred leaders from the geothermal industry, the finance community and government agencies met yesterday at the Geothermal Energy Association (GEA) fourth annual Finance Forum, held at the Marriott Marquis San Francisco. The event focused discussions on the issues and opportunities in geothermal including how to accelerate the slow growth of the industry, whether Congress will extend tax incentives, how to improve project economics, and more. "While analysts projected continued growth for the industry in the US and worldwide, the industry still struggles with the overall poor economy and federal and state policies that don't match industry development needs," said GEA Executive Director Karl Gawell.

Keynote presenters included Karen Douglas, Commissioner, California Energy Commission (CEC); Michael Picker, Senior Advisor to the Governor for Renewable Energy Facilities, State of California; Anne Simpson, Senior Portfolio Manager for Corporate Governance, California Public Employees' Retirement System (Calpers); industry panels featured Gevan Reeves, Director, Strategic Origination, Calpine Corporation; Luka Erceg, President and CEO, Simbol Materials; Halley Dickey, Director Geothermal Business Development, TAS Energy; Mike Ranz, President, SNC-Lavalin Thermal Power; and Jonathan Weisgall, MidAmerican Energy Holdings Company.
The GEA Finance Forum was made possible in part by Gold Level sponsor SNC Lavalin, a company with a team that has successfully completed over 60,000 MW of thermal power projects worldwide, while also committed to achieving a superior financial return for its shareholders. "The involvement of leading global companies, like SNC Lavalin, in the geothermal industry is a positive sign for its future outlook," Gawell noted.
An overarching theme at the event was the mismatch with government policies. While California state energy goals will require significant new renewable energy production in coming years, utility procurement and transmission processes did not account for the long-lead times of geothermal projects. And, for project finance, federal tax credits expiring at the end of 2013 mean that many new power plants cannot count on federal help. A geothermal project may have at least 4 to 8 years of lead time before the resource is on tap, and with the credit expiring in two years many new projects hang in the balance as Washington debates whether or not to extend renewable energy tax incentives, several speakers noted.
"While our technologies are not literally at their tax incentive cliff – they have until December 21, 2013 to put new projects into production -- for all practical purposes the production tax incentive is having declining effect. A utility scale project starting today would find it nearly impossible to be completed by the end of 2013. To spur continued growth in geothermal, and build on the success of the Energy Policy Act of 2005, we would urge Congress to extending tax credits through at least 2016 for geothermal," Gawell said.
Important conversations at the GEA Finance Forum covered technological advancements, as well as challenges in siting and transmission. There was also spirited discussion of approaches to reduce industry risk, including possible new insurance schemes and feed-in tariffs.
California is a policy leader in the United States with one of the most ambitious Renewable Portfolio Standards in the country. The state's landmark renewable energy standard legislation was signed into law by Gov. Jerry Brown this year, and will require California utilities to provide at least a third of their electricity from clean and safe renewable sources like geothermal by the year 2020, and the state's climate law will require even more by 2030 and beyond.
The need for new geothermal power in California was underscored by CEC Commissioner Douglas. She explained that in the coming decades California would not just need to meet increasing RPS and climate goals, but also replace its nuclear power plants and imported coal power. She remarked: "As we move toward our long term goals, we can't think about renewable energy as all being the same, because a system that has a balanced mix of geothermal, biomass, solar thermal, PV and wind will function very differently and will be able to fill the needs we see in our infrastructure in a much different way than a system that's covered by intermittent resources alone. We need to think about how we meet the needs of our electricity that allows us to deliver reliable electricity and this is where geothermal power is our bread and butter."
"We intend to fully engage the California Energy Commission and the Governor's office to ensure the policies and programs that allow us to tap the full potential of the state's geothermal resource base to help meet the renewable goals set by the state are adopted," Gawell said. "GEA's last Industry Update identified more than 34 projects with over 1,400 MWs under development now in California, and this is only a fraction of the resource potential."
Gawell also called on California to convene a Geothermal Task Force, similar to the one recently initiated in Hawaii, to re-assess the full resource potential of the state using today's knowledge and technology. Hawaii's Task Force has recently proposed that the state set a goal of being 100% geothermal powered.
"To support moving the geothermal agenda in California forward, we intend to build on the dialogue started at the Forum and convene a geothermal policy summit in Sacramento this summer," Gawell announced. "The summit will focus on the critical issues the Forum identified and seek to find new approaches to expanding geothermal power production to help meet California's energy needs," he added.
The Geothermal Energy Association will return to California for the GEA National Geothermal Summit 2012 in Sacramento August 7-8, 2012. For more information about this and other GEA events, please visit http://geo-energy.org/events.aspx. For sponsorship opportunities, please contact Kathy Kent at 202 454 5263 or kathy@geo-energy.org. To schedule an interview with GEA Executive Director Karl Gawell, please contact Shawna Seldon at 212 255 7541 or Shawna@rosengrouppr.com.
About the Geothermal Energy Association:
The Geothermal Energy Association (GEA) is a trade association composed of U.S. companies who support the expanded use of geothermal energy and are developing geothermal Resources worldwide for electrical power generation and direct-heat uses. GEA advocates for public policies that will promote the development and utilization of geothermal Resources, provides a forum for the industry to discuss issues and problems, encourages research and development to improve geothermal technologies, presents industry views to governmental organizations, provides assistance for the export of geothermal goods and services, compiles statistical data about the geothermal industry, and conducts education and outreach projects. For more information, please visit http://www.geo-energy.org/. Check out GEA's YouTube Channel. Follow GEA on Twitter. Become a fan on Facebook.
Featured Product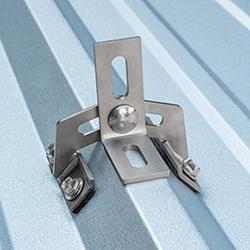 QuickBOLT Low Profile QuickBOLT with Microflashing™ is the industry's affordable, UL Certified Asphalt Shingle mounting system. The Microflashing™ is compressed by the collar on the bolt to create a water-tight seal. With an installation time of less than one minute, the Low Profile QuickBOLT allows installers to complete more jobs.