Solar Power Mexico, the only business focused solar conference in Mexico, announced its 2012 lineup of industry leading speakers and full agenda, which aims to tackle the key issues head on to drive the market forward.
Held as part of the Mexican International Renewable Energy Congress (MIREC), and sponsored by Siemens, Solar Power Mexico will feature over 30 expert speakers. Dedicated sessions will cover the availability of government support, case studies of the first utility scale projects, investment opportunities and much more.

Until now, Mexico's vast solar resource has remained exploited only at a domestic scale. However, as price parity of solar begins to be reached, coupled with poor European market conditions, Mexico is beginning to attract the attention of utility scale developers.
"It is well recognized that Mexico's vast solar resource provides the country potential to become a global market leader" said Anna Watson, Director of Solar Power Mexico. "Whilst the government has enacted policies to facilitate development and is presently undertaking country wide solar mapping research, a key barrier is still considered to be lack of government tariffs to support large scale projects. Solar Power Mexico will unite key international players with government officials and investors to discuss the latest case studies and resolve how best to drive the industry forward".
The conference will present a balanced agenda with speakers from both government and industry. Organizations already confirmed to speak include SENER, CFE, CRE, Abengoa, Siliken, Enel Green Power, DelSol Systems, DesMex Solar and Granite Chief and many more.
To view the full agenda, download the brochure or for any more information please see www.greenpowerconferences.com/solarmexico or please contact us: Tel: +1 971 238 0700, Email Samantha.coleman@greenpowerconferences.com. Keep up to date with the latest information by joining the Solar Power Mexico LinkedIn group
Featured Product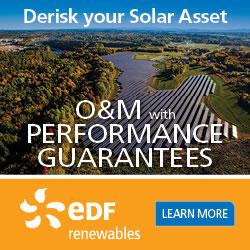 EDF Renewables offers the same innovative solutions that maximize the performance of our own 5.2 GW of installed projects. Because we're not an equipment manufacturer, our recommendations are transparent and data-driven. We cover the entire project lifecycle: from pre-commissioning support, through warranty and post warranty operation, to late stage and decommissioning.