Two solar mounting manufacturers work together to create the Gator MountTM offering more choices for solar installers
Schletter Inc. and Quick Mount PV, two U.S. manufacturers of solar photovoltaic (PV) mounting systems, announce the Gator Mount, a new product that makes Quick Mount PV's composition roof mounting technology compatible with Schletter's Solar Mounting Rails.

The Quick Mount PV Gator Mount attaches to the roof with a single hanger bolt through the company's patented QBlock, an integrated all-aluminum flashing, mounting block, and elevated water seal. The same hanger bolt also affixes the Schletter Gator Clamp to the solar mounting rails. This results in superior waterproofing and a fast, strong installation.
"We understand that creating more versatility in the products the market uses is a value-add for our customers," said Sven Kuenzel, Vice President of Sales for Schletter. Quick Mount PV's co-founder and COO Stuart Wentworth said, "By partnering with Schletter to offer a customized roof mounting solution for their solar mounting rails, we are jointly able to meet the needs of a wider range of solar installations."
About Schletter Inc.
Schletter (http://www.schletter.us) has designed, developed, and manufactured solar mounting products in the U.S. since 2008, while backed with more than 19 years of solar mounting experience from Schletter GmbH. Since opening its United States facility in Tucson, Arizona Schletter Inc. has manufactured more than 600 MW of installed PV mounting systems. Schletter Inc. offers products for roof mount and ground mount systems for residential, commercial, and utility scale photovoltaic systems. Schletter Inc. is an independent subsidiary of Schletter GmbH, which operates subsidiaries in eleven countries with more than 1,800 employees worldwide and over 6 GW of installed PV mounting systems. For more information on Schletter GmbH, please visit htpp://www.schletter.de.
About Quick Mount PV
Quick Mount PV manufactures code-compliant waterproof mounts used to secure solar electric (PV) and solar thermal (hot water) systems to residential and commercial rooftops. The company currently employs 49 people in its new facility in Walnut Creek, CA. Founded in 2006, Quick Mount PV pioneered the field of flashed mountings for rooftop solar installations, and has since grown to become the industry's leading seller of rooftop solar mounts. By fabricating and assembling parts and components from other U.S. manufacturers in its California facility, the company complies with FTC regulations to proclaim its products are "Made in the USA" and fulfills the requirements of the Buy American provision contained within the American Reinvestment and Recovery Act (ARRA). Visit http://www.quickmountpv.com for more information.
Media Contacts
Angela Kliever
Director of Marketing
Schletter Inc.
520.289.8726
angela.kliever@schletter.us
Ron Jones
Vice President of Marketing
Quick Mount PV
925.687.6686
ron@quickmountpv.com
Featured Product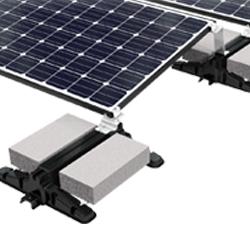 Preformed Line Products introduces the POWER MAX Ballasted Roof Mounting System. The POWER MAX solar mounting system is engineered to maximize energy output on commercial flat roofs. Developed with the professional installer in mind, this system offers adjustable inter-row spacing in the field of up to 11 inches. It features 50% fewer components and a simplified design resulting in faster assembly rates and labor savings on every project. Available in a flush mount, 5˚ or 10˚ tilt or higher density dual tilt design, the POWER MAX base arrives stacked on pallets providing easier transport to the roof. Engineered as a fully ballasted, non-penetrating system, it accepts standard concrete blocks and is qualified by wind tunnel testing.