Development of dry-land aquaculture could transform desert farm economies of the American Southwest and Mexico
MEXICALI VALLEY, Mexico & LOS ANGELES--Algae producer Aquaviridis and OriginOil, Inc. (OTC/BB: OOIL), the developer of a breakthrough technology to extract oil from algae and an emerging leader in the global algae oil services industry, today announced that Aquaviridis has signed a commercial agreement with OriginOil to help develop the multi-phase algae production rollout at its Mexicali, Mexico site, a potential model for algae sites throughout the North American Free Trade Agreement (NAFTA) region, with a focus on desert areas of the American Southwest and Mexico.

OriginOil will provide its expertise to help develop growth and harvesting solutions and implement appropriate OriginOil technologies. The facility will also serve as a test bed for OriginOil innovations.
In announcing the agreement, Aquaviridis president Thomas Byrne stated, "After evaluating OriginOil's portfolio, our technical team felt that OriginOil had some novel, scalable, and potentially game-changing technologies for algae harvesting and growth enhancement. We are excited about the opportunity to work closely with them as a partner during our research and planning stage. Having the right partners and technologies is critical, as our expectation is to have this facility in revenue this year."
Aquaviridis is backed by private sector funding, with plans to immediately scale up from research and development to ten acres of pilot algae production by the middle of this year. Commercial scale production capacity is expected by the second quarter of 2013. Aquaviridis selected the Mexicali Valley as a strategic location due to favorable growing conditions, strong local and governmental support, and available sources of carbon dioxide.
OriginOil's vice president of marketing, Ken Reynolds added, "The Mexicali Valley is a great place to develop an algae industry, given its climate and access to industry research and resources throughout North America. With the U.S. as a neighboring market for high value exports, Mexico is in an excellent position to take the lead in areas such as research and production of algae for nutritional products, animal feed, and oil for biofuels, which would create long-term regional economic growth and job production."
About Aquaviridis, Inc.
Aquaviridis is a commercial algae grower headquartered in Preston, Minnesota with production facilities in the Mexicali Valley of northern Mexico. Its focus is on the production of algae feedstocks for high value markets such as nutriceuticals, human food, animal/aquaculture feed, and renewable biofuels. Aquaviridis intends to partner with leading algae industry researchers, equipment vendors, and government and local organizations to develop best-in-class products and solutions for these markets.
About OriginOil, Inc. (www.originoil.com)
OriginOil helps algae growers extract oil from algae for use as a feedstock for the commercial production of transportation fuels, chemicals and foods. In a single step, our breakthrough technology efficiently dewaters and breaks down algae for its useful products, overcoming one of the greatest challenges in making algae a viable replacement for petroleum. As a pioneer and the emerging leader in the global algae oil services field, OriginOil supports its core algae extraction technology with an array of process innovations for some of the world's most successful algae growers and refiners, just as pioneers like Schlumberger and Halliburton have done in the oilfield services industry. To learn more about OriginOil®, please visit our website at www.originoil.com.
Featured Product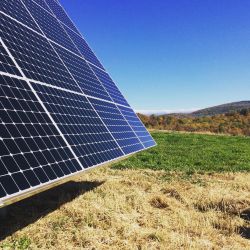 Designed and manufactured in the U.S., the AllEarth Solar Tracker is a complete grid-tied, dual-axis solar electric system that produces up to 45% more electricity than fixed systems. The tracker uses GPS and wireless technology to follow the sun throughout the day for optimal energy production. It has an industry-leading 10 year warranty and 120 mph wind rating, superior snow shedding, and automatic high wind protection. Its simple, durable design and complete system pallet simplifies costly procurement and installation time. Contact us about becoming a dealer partner or purchasing an AllEarth Solar Tracker.