OPDE scored in 2011 a record activity with the construction and connection of 51 MW in eleven PV solar farms in Spain and Italy. This figure means that, only in 2011, the company reached half the activity carried out in the five previous years, when it developed and connected 101.5 MW.
Specifically, last year OPDE built and connected 32 MW in eight PV solar farms in Italy, and 19 MW in three PV solar facilities in Spain. (See table below.) Thus, the company built and connected 152.5 MW between 2005 and 2011 in both countries.

OPDE management sources remarked that their record figures last year were in part the result of improved competitiveness, a new management team and Board of Directors, and the newly hired senior executives and team of highly qualified professionals in various departments: development, legal, engineering, operation and maintenance, financial and corporate services, etc.
'Newly arrived talent in our organisation, plus improved competitiveness thanks to more effective planning, management and control, enabled us to hit these record figures. In one year we built 50% more farms than in the five previous years. Considering that this was one of the hardest times for the PV industry in Europe, we are really content that we scored such excellent results,' said Marketing Manager Teresa Marticorena.
Total investment in the development of 51 MWs in both countries amounted to nearly EUR200M. The projects developed by OPDE last year were acquired by fund management firms M&G Investments of Prudential and ForVEI (joint venture whose main direct and indirect investors are Palladio Finanziaria, Assicurazioni Generali SpA, Intesa Sanpaolo SpA, Quercus Asset Selection Sarl and Foresight Solar VCT plc), which bought five solar facilities in Italy for EUR88M.
The projects were funded under the project finance mode by some of the largest financial institutions in Spain and Italy.
In 2008, when regulations changed in Spain, OPDE decided to start business abroad. In only three years, the company moved from 100% sales in the Spanish market to 63% PV solar facilities operating abroad. In fact, in 2011, out of 51 MW, more than 32 MW were developed in foreign countries, while 19 MW were installed in Spain. OPDE intends to strengthen its presence and increase its activity in foreign markets in the future.
OPDE: Leader in Operation and Maintenance in Europe
In addition, OPDE performs operation and maintenance tasks for a wide range of customers, from small clients to fund management firms buying solar facilities. Company sources have announced that the company is currently developing a computer-assisted maintenance tool for programming a set of parameters and preventive or predictive checking, which enables the creation of task lists for technicians according to scheduled times through a variety of 256 procedures.
These procedures will facilitate and simplify maintenance planning and control, and will generate information processed and arranged in tables, which can be used to assess results and make the right decisions.
A key tool for service quality improvement is the recently opened Control Centre. In 2011, OPDE opened a modern remote Control and Monitoring Centre for its PV solar facilities whose main platform is in the company's headquarters in Spain, controlling and monitoring all the solar farms.
This Centre will monitor and store real-time information from 40 PV solar farms in Spain and Italy. This means that OPDE can store, control and manage in real time, from this Control Centre, a total 16,000 trackers and 48,000 inverters.
New Challenges for 2012-2013
OPDE is setting new strategic goals and challenges for the 2012-2013 period. The company expects to exceed 200 MW in connected PV farms. Besides, it is developing a pipeline of new PV solar farms that will go beyond 300 MW and is considering diversification into other solar and renewable technologies in foreign markets that will increase the present value of the company.
Ms Marticorena added that 'OPDE has long experience, is an industry leader, has the support of other companies in the OPDE Group such as PROINSO or MECASOLAR as well as a talented and motivated team, is trusted by investment firms and financial institutions, and has the resources necessary to successfully meet challenges.
Featured Product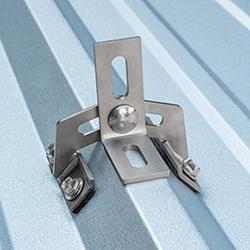 QuickBOLT Low Profile QuickBOLT with Microflashing™ is the industry's affordable, UL Certified Asphalt Shingle mounting system. The Microflashing™ is compressed by the collar on the bolt to create a water-tight seal. With an installation time of less than one minute, the Low Profile QuickBOLT allows installers to complete more jobs.