Puurgen's Solar-Powered CCTV solution is being used to assist with the prevention of crime in remote and off-grid locations.
Scotland-based renewable energy start-up Puurgen has installed a solar-powered CCTV system at Scottish Water's site in Aberdeen to help combat fly-tipping.

The system features a vandal-proof dome camera powered by a 180Watt-peak solar power system, which uses Puurgen's innovative maximum power point tracker technology to increase solar capture by up to 40%. The same technology has been used by Puurgen's sister company Clyde Space to power small satellites in space.
The solar-powered CCTV system is completely autonomous and carbon-friendly. No underground channels need to be dug to power the device and the video feed is transmitted via a 2.4GHz wireless link to a nearby secure digital video recorder.
"We are excited about using renewable energy for important environmental challenges such as fly-tipping and are delighted that Scottish Water value the benefit of such a system", said John Charlick, managing director of Puurgen. "Scotland receives 60% of the sun incident at the equator, making solar power an attractive proposition for remote, off-grid and wireless systems."
Puurgen hope to install similar systems for local councils throughout the UK to help reduce fly-tipping and other types of crime.
Featured Product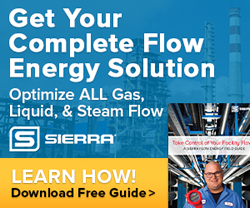 Download Flow Energy Guide - Written by Engineers For Engineers. Learn how to save on energy costs by optimizing your facility flows that impact costs like compressed air, natural gas, steam, and hot or chilled water.