Job creation, environmental and public health benefits are drivers of support
SAN FRANCISCO--Vote Solar, a non-profit solar advocacy group, in partnership with Probolsky Research, today announced the findings of a recent survey to assess the attitudes toward solar energy development in California's Imperial, Inyo, Kern, Riverside, San Bernardino counties. Results indicate that a decisive majority of citizens in California's desert communities strongly support the development of solar power facilities in their counties.

"It's an economic issue and a social justice issue, and a priority for the county."
"The survey demonstrates widespread support for solar development in California's deserts. Nearly four out of five people surveyed believe that the California desert is a great resource and should be used to develop solar power projects," said Adam Probolsky, CEO of Probolsky Research. "We polled just residents living in the desert communities where renewable energy projects are being proposed. Voters understand the impacts and the rewards of utility-scale solar projects in California's desert communities and they support it."
Key findings from the survey include the following:
* Nearly four out of five citizens polled believe that the California desert is a great resource and should be used to develop solar power projects.
* The majority of respondents are concerned about global warming.
* Two out of three agree that renewable energy is an important part of our state's future and that the state and federal government is right to provide financial support and tax incentives for renewable energy projects.
"A majority of California's desert citizens clearly believe that solar power is an important piece of our state's overall clean energy portfolio," says Jim Baak, Director of Utility-Scale Policy for Vote Solar. "Along with rooftop solar, energy efficiency, wind and geothermal power, smart grid and the other pieces of a modern electrical system, these utility-scale solar power plants are critical to addressing the very real threat of climate change and fuelling new economic growth in the state."
"Climate change is the foremost environmental challenge facing these desert ecosystems. A business-as-usual approach to energy will cause irreversible extreme weather and severe water shortages for the animals, plants and people that live in these desert ecosystems. Utility scale solar that takes into account careful conservation strategies & local interests is a powerful part of the solution," added Michelle Kinman, Clean Energy Advocate at Environment California.
Jobs and the economy are by far the most important issues concerning voters in California desert counties. Unemployment rates in the counties polled are high, peaking at a high of 26.8% unemployment in Imperial County. The construction sector in particular is facing 18.9% unemployment across the state.
"Utility-scale solar development is a huge job creator and economic engine and will make a very meaningful impact in the communities in which they are located," said William Perez, executive secretary and business manager for the San Bernardino and Riverside Counties, Building and Construction Trades Council. "The two gigawatts-worth of large-scale solar projects currently under development in Southern California are expected to put nearly 4,000 people to work in the hard-hit construction sector and providing an immediate economic boost in their local communities."
"There is a huge job creation benefit to solar projects," said Greg Devereaux, San Bernardino County CEO. "It's an economic issue and a social justice issue, and a priority for the county."
Polling data also showed that citizens of the California desert became even more supportive of utility-scale solar development in their county when informed that solar facilities will improve the overall air quality in their region. Solar power facilities will reduce dependence on California's aging, polluting fossil power plants by providing clean solar power, avoiding millions of tons of carbon-dioxide emissions and other air pollutants.
"This survey demonstrates the strong support for large scale solar projects as a way to improve our air quality. These projects will reduce air pollution, combat climate change and lessen our dependence on the fossil fuels that have caused such great harm to public health," said Jane Warner, President and CEO, American Lung Association in California.
"Renewable energy will improve the air quality in the region and with better air quality, a better quality of life," said Anupom Ganguli, PHD, Assistant Deputy Executive Officer, South Coast Air Quality Management District.
The survey was underwritten by BrightSource Energy in order to assess community views, both positive and negative, about utility-scale solar in California's deserts. Probolsky Research designed the questionnaire and surveyed voters in the Southern California pan-Desert counties of Riverside, San Bernardino, Imperial, Inyo and Kern. A total of 1019 telephone surveys were collected. A study of this size yields a margin of error of +/- 3% with a 95% degree of confidence (+/- 6.9% in each county). Interviews were conducted in both English and Spanish with voters on both landline and cell phones. The survey took place between December 15 through December 18, 2011 and again from January, 12 through January 15, 2012.
About Vote Solar
Vote Solar is a non-profit grassroots organization working to fight climate change and foster economic opportunity by bringing solar energy into the mainstream. Since 2002 Vote Solar has engaged in state, local and federal advocacy campaigns to remove regulatory barriers and implement the key policies needed to bring solar to scale. www.votesolar.org
Featured Product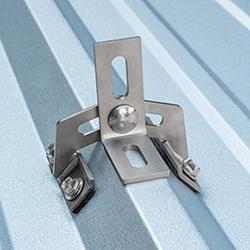 Explore new lines of income for your solar installation business with QuickBOLT's Stone Coated Steel roof mounts designed in partnership with metal roof manufacturers themselves. These SCS roof mounts work on all metal tile profiles and will help you bring in money you're missing out on. By not driving into the roofing material, QuickBOLT's Stone Coated Steel roof hooks maintain the integrity of the roof. Install with ease and confidence knowing your roof is protected against the harsh elements that these hooks are designed for.