The fuel cells join nine previous alternative energy projects in the state.
ATLANTA, Feb. 13, 2012 -- Cox Enterprises announced today the installation of five fuel cells at its Cox Communications subsidiary in San Diego. The fuel cells join nine previous alternative energy projects in the state. Combined, Cox's 14 alternative energy installations in California annually prevent 15,500 tons of carbon emissions from entering the environment, the equivalent of removing 367 cars from the road.

The five new fuel cells are Bloom Energy Servers and utilize a unique fuel cell technology, which converts fuel into electricity via an electro-chemical process without any combustion and no harmful, smog-forming particulates. These fuel cells are powered by biogas, a renewable fuel, to make them even more eco-friendly.
The new fuel cells in San Diego include two 200kW units that power 100 percent of Cox Communications facility on Copley Drive and three 200kW units that power 90 percent of its building on N. Cuyamaca Street.
"Twenty-five percent of Cox Communications' electricity in California is now being generated through our alternative energy projects," said Steve Bradley, Cox Enterprises' director of energy, alternative energy and business continuity. "These projects yield positive results for the environment and the bottom line."
Cox Enterprises' alternative energy projects in California, include:
*Four 100kW fuel cell units at KTVU-TV in Oakland
*Two 400kW fuel cell units at Cox Communications in San Diego (Federal Boulevard facility)
*Two 400kW fuel cell units at Cox Communications in Rancho Santa Margarita
*One 100kW photovoltaic solar installation at Cox Communications in Rancho Santa Margarita
"It's important for us to positively impact the communities we serve, and where our customers live," said Dave Bialis, senior vice president and general manager of Cox Communications' operations in California. "These newly installed fuel cells in San Diego will help us continue our efforts to be good environmental stewards, and hopefully, inspire other businesses to implement eco-friendly practices."
In addition to California, Cox Enterprises has alternative energy installations in Phoenix, Ariz.; Atlanta, Ga.; Macon, Ga.; Bordentown, N.J.; and Portland, Ore. Nationwide, Cox's alternative energy projects annually prevent 17,400 tons of carbon emissions from entering the environment.
Cox Communications has been recognized as a Waste Reduction Award winner by Cal Recycles, the state's leading authority on recycling, waste reduction, and product reuse. Cox Communications also has been named the City of San Diego's Recycler of the Year and the #1 green company in Orange County by OC Metro Magazine. Through the Cox Conserves Heroes program, more than $100,000 has been donated to local environmental nonprofits in Southern California and the San Francisco Bay Area.
About Cox Conserves:
Launched in 2007, Cox Conserves seeks to reduce Cox Enterprises' energy consumption by embracing renewable forms of energy, conserving natural resources and inspiring eco-friendly behavior. The program engages each of the company's major subsidiaries (Cox Communications, Manheim, AutoTrader.com and Cox Media Group) and encourages Cox Enterprises' 50,000 employees and their families to engage in eco-friendly practices. For more information, visit CoxConserves.com.
About Cox Communications:
Cox Communications is a broadband communications and entertainment company, providing advanced digital video, Internet and telephone services over its own nationwide IP network. The third-largest U.S. cable TV company, Cox serves approximately 6 million residences and businesses. Cox Business is a facilities-based provider of voice, video and data solutions for commercial customers, and Cox Media is a full-service provider of national and local cable spot and new media advertising.
Cox is known for its pioneering efforts in cable telephone and commercial services, industry-leading customer care and its outstanding workplaces. For seven years, Cox has been recognized as the top operator for women by Women in Cable Telecommunications; for five years, Cox has ranked among DiversityInc's Top 50 Companies for Diversity. More information about Cox Communications, a wholly owned subsidiary of Cox Enterprises, is available at www.cox.com and www.coxmedia.com.
About Cox Enterprises:
Cox Enterprises is a leading communications, media and automotive services company. With revenues of nearly $15 billion and more than 50,000 employees, the company's major operating subsidiaries include Cox Communications, Inc. (cable television distribution, telephone, high-speed Internet access, commercial telecommunications and advertising solutions); Manheim, Inc. (vehicle auctions, repair and certification services and web-based technology products); Cox Media Group, Inc. (television and radio stations, digital media, newspapers, advertising sales rep firms, Valpak and Cox Digital Solutions); and AutoTrader.com (online automotive advertising and Kelley Blue Book, vAuto and HomeNet Automotive subsidiaries). Additionally, Cox operates Kudzu.com.
Featured Product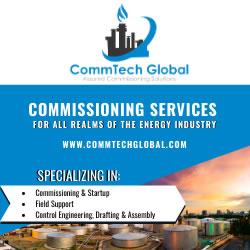 CommTech Global Solutions, LLC, provides professional and reliable commissioning services to customers in all realms of the energy industry. We blend our skills in engineering and technology with innovative business models, offering a complete range of services to assist you for a successful and in compliance operational startup. Consolidation of all our service domains gives our clients a comprehensive set of expertise and far-reaching experience on each project.