PV Energy World Special Exhibit at Intersolar Europe 2012 showcases innovative solutions for the power supply of the future
Intersolar Europe,

Munich, June 13-15, 2012
MUNICH--2011 was a record year both for Intersolar Europe and the international solar industry, with the expansion of newly-installed photovoltaic capacity reaching a new high. With 18 billion kilowatt hours (kWh) of solar power generated during the year, 2011 saw photovoltaics conquer a larger share of the German energy production market than hydropower for the first time. The increasing market share occupied by solar power highlights the opportunities that could be enjoyed by the technology in future energy supply. In order to exploit these opportunities effectively, the solar industry is working at full steam to create new solutions, such as grid integration and energy storage systems. The PV Energy World Special Exhibit at Intersolar Europe 2012 presents the latest developments in technology and reveals both the measures and the political conditions that are necessary to achieve the highest possible quotas of solar power generation.
In 2011, solar plants with a total capacity of at least 26.5 gigawatts (GW) were installed across the globe. In Germany alone, around 7.5 GW of new photovoltaic capacity was added, exceeding even the previous record year of 2010. According to estimates from BSW-Solar (German Solar Industry Association) in Berlin, solar power production will see a further 70% rise in the next four years alone. In order to take full advantage of this capacity in future, the industry needs to address grid stability, intelligent solutions for on-site consumption and efficient, economical storage as a matter of priority.
Innovative solutions for future energy supply
As the demands on infrastructure increase, so the industry gains new potential for value creation. Only recently, when the latest amendments were made to the Renewable Energy Sources Act (EEG), was the route paved for improving the grid integration of photovoltaics. The new Low Voltage Directive has been in force since January 1, 2012. Inverter manufacturers played a significant role in developing both this directive and corresponding solutions that have integrated mechanisms for controlling effective power. Thanks to the new standard, it will be possible to install significantly higher numbers of PV plants in future and integrate them into the low voltage grid. Even the on-site consumption of solar power and new storage technologies may, in future, also play their part in easing the burden on the grid and boosting photovoltaics' contribution to energy supply.
There is also potential for small, efficient, distributed battery storage systems to assist in optimizing on-site consumption in residential homes. And for industry and commerce, which have highly consumption-dependent electricity costs, chiefly throughout the day, it is possible that intelligent all-in-one solutions using efficient storage technologies could achieve substantial cost savings. The options for doing so are many and varied, as almost all types of storage open up enormous potential for lowering costs, which in turn makes the use of energy storage systems increasingly attractive.
PV Energy World Special Exhibit showcases latest developments
Following its successful launch in 2011, the PV ENERGY WORLD Special Exhibition at Intersolar Europe 2012 will showcase the hottest developments and pioneering solutions in hall C4, booth C4.230 for the second time. The Special Exhibit is presented by the organizers of Intersolar Europe, Solar Promotion GmbH, Pforzheim, and Freiburg Wirtschaft Touristik und Messe GmbH & Co. KG (FWTM), Freiburg. Within the two thematic areas of Electricity Storage and Grid Integration, the Special Exhibit illustrates the measures, technologies and political conditions necessary to increase PV electricity generation. Expert presentations and panel discussions will also be hosted in the Special Exhibit's central forum. The Special Exhibit is sponsored by SOLARWATT AG.
Intersolar Europe 2012 will take place from June 13–15 at the New Munich Trade Fair Centre.
Further information on Intersolar Europe can be found at www.intersolar.de
Partners of Intersolar Europe
Intersolar Europe is supported by the leading solar industry associations: the German Solar Industry Association (BSW-Solar), as an exclusive partner of Intersolar Europe, the German Solar Energy Society (DGS), the European Solar Thermal Industry Federation (ESTIF), the International Solar Energy Society (ISES), the SEMI PV Group and VDMA-PV, the Platform for Photovoltaic Equipment within the German Engineering Federation. With the support of the European Photovoltaic Industry Association (EPIA).
About Intersolar
With over 3,500 exhibitors and 120,000+ visitors spanning three continents, Intersolar is the world's leading exhibition series for the solar industry. Intersolar Europe takes place annually at the New Munich Trade Fair Centre. Today, it is the world's largest exhibition for the solar industry, and looks back on a history spanning twenty years.
In 2011, 2,280 international exhibitors and more than 77,000 trade visitors were welcomed to Intersolar Europe. Intersolar Europe focuses on the areas of photovoltaics, PV production technology and solar thermal technology. Since its founding, it has become established as the most important industry platform for manufacturers, suppliers, wholesalers and service providers. The accompanying Intersolar Europe Conference consolidates the topics of the exhibition. In 2011, more than 400 speakers and around 2,500 attendees discussed current industry topics and shed light on the background behind technological, market and political developments.
In addition to Intersolar Europe, Intersolar North America in San Francisco was launched in 2008. This was followed by Intersolar India in 2009, which has been held in Mumbai since 2010. Intersolar China in Beijing was added to the Intersolar portfolio in 2011.
Featured Product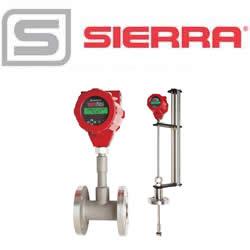 Sierra was the first to introduce a combination volumetric vortex and multivariable mass flow meter in 1997. Today, Sierra's completely redesigned InnovaMass® iSeries™ 240i/241i builds on two decades of success measuring five process variables for gas, liquid and steam with one connection. Now, with the latest hyper-fast microprocessors, robust software applications, field diagnostic and adjustment capability, and a new state-of-the-art flow calibration facility, Sierra's vortex iSeries delivers precision, performance, and application flexibility never before possible.