UK policy and business leaders discuss low-carbon sector collaboration with North America
Long Beach, CA (February 15, 2012) – British government and business leaders today discussed the economic and environmental benefits of the UK's Green Deal – the no-cost-down program to retrofit 26 million British homes and businesses – during a Renewable Energy World 2012 conference panel. The panel focused on how government policies act as core drivers to develop a clean energy economy and spur global business opportunities.

"The UK has a world-leading policy framework which is revolutionizing the low-carbon business environment. Business-friendly policies are creating new markets, spurring sustainable business thinking and attracting innovators and customer service experts to enter the market," said Dan Monzani, deputy director of the Green Deal, UK Department of Energy and Climate Change.
"Policies like the Green Deal are transforming Great Britain into a global hub for the mass market deployment of clean technology and opening new business opportunities with overseas companies like the ones we are meeting a t Renewable Energy World," said Monzani.
The UK has set a national goal of reducing carbon emissions by 80 percent by 2050. Considering that a quarter of the UK's emissions come from the energy used in homes, the British government launched the Green Deal to enable consumers to invest in energy efficiency measures and technologies at no upfront cost. Consumers repay the costs associated with the retrofits through the money saved on future energy bills.
Tim Pollard, head of sustainability, Wolseley, a UK-based, global supplier of builders' products, expects "the Green Deal to have a transformational effect on our core business and undoubtedly it will provide commercial opportunities in the green building sectors of both the UK and abroad." Pollard, who also spoke on the RE World panel, was one of four UK businesses visiting California and Boston this week to discuss how the Green Deal can open business alliances with the United States.
Great Britain's energy efficiency retrofit market – worth an estimated $5 billion a year – is attracting a lot of attention by US entrepreneurs as well. Tim Donovan, CEO of Day One Energy Solutions, explained why, as an American, he chose to establish his energy efficiency business in Great Britain.
"The UK is driving its transition to a low-carbon economy by enacting some of the most forward-thinking policies in the world, making it an attractive location for companies like ours to locate," said Donovan. "The long-term British policies and incentives put in place to meet the low-carbon objectives give businesses the needed confidence for the future."
The US is the largest market in the world for low-carbon environmental goods and services – both as suppliers and consumers. That's why US businesses engaged with green building and energy efficiency services and products are expected to become important partners as Great Britain prepares to launch the Green Deal in October, said Michael Rosenfeld, UK Trade & Investment, Vice Consul - USA Clean Technology Sector Head.
"As the rest of the world expands their own clean energy economies, there is a strong recognition that the technical know-how and ambitious policy approaches of the UK are affording strong opportunities for business collaboration, particularly in energy efficiency," said Rosenfeld.
Examples of UK-US partnerships include UK-based engineers ARUP and sustainable architects Fosters + Partners, which have been tapped to help develop Apple's new solar-powered Silicon Valley headquarters. Conversely, US-based companies like Silver Spring Networks and EnerNOC are helping to address the UK's ramp up of 47 million smart meters by 2020, another policy-driven energy efficiency measure by the UK government.
The British delegation of Monzani and the four UK companies – Wolseley, Kingfisher Building, Travis Perkins and Dow Building Solutions – will also visit Boston beginning February 16 to discuss the Green Deal with regional energy policy stakeholders and expand relationships with business leaders.
About UK Trade & Investment
UK Trade & Investment (UKTI) is the British Government Department that helps UK-based companies succeed in the global economy. We also help overseas companies bring their high quality investment to the UK's economy – acknowledged as Europe's best place from which to succeed in global business. UKTI offers expertise and contacts through its extensive network of specialists in the UK, and in British embassies and other diplomatic offices around the world. We provide companies with the tools they require to be competitive on the world stage. For more information on UKTI, visit www.ukti.gov.uk or telephone +44 (0)20 7215 8000. For latest press releases, visit the online newsroom at www.ukti.gov.uk/media.
Featured Product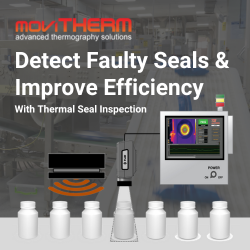 MoviTHERM's Thermal Seal Inspection (TSI) solution provides precise and reliable detection of defects in a variety of packaging types, including pouches, bags, blister packs, bottle caps, and more. By detecting defects in your packages, the TSI solution helps increase efficiency in your production line and ensures top-quality packaging is delivered to your customers every time. With state-of-the-art technology and an experienced team, MoviTHERM is dedicated to delivering accurate inspection solutions and peace of mind to its clients. Contact MoviTHERM today to learn more about their thermal seal inspection solution.