13.2 megawatts delivered in first shipment
SANTA CLARA, Calif., Feb. 15, 2012 – Solar Frontier signed a module supply agreement with NRG Solar LLC, one of the largest solar developers in the U.S., for 13.2 megawatts (MW) of Solar Frontier's CIS thin-film solar modules in December 2011. The modules were shipped and delivered to NRG this month.

NRG Solar owns and operates some of the largest solar power plants in the U.S., and has more than 2,000 MW of solar projects under development or in construction across the southwest. It is a subsidiary of NRG Energy, Inc. (NYSE: NRG), a Fortune 500 and S&P 500 Company that owns and operates one of the U.S.'s largest and most diverse power generation portfolios, with over 25 gigawatts of generation capacity.
This marks the first agreement between the two companies and the first purchase of thin film CIS technology in NRG Solar's history. NRG Solar is a market leader in the expansion of solar equipment implementation throughout North America, and the company is on the forefront of emerging technology trends in renewable energy. Though the purchase is not set for a specific project, the transaction demonstrates the confidence NRG Solar has in CIS technology for future installations.
"We are proud to have been chosen by NRG Solar for this purchase," said Gregory Ashley, chief operating office of Solar Frontier Americas. "NRG Solar's leadership in the industry makes them an extremely valuable long-term customer of Solar Frontier."
The modules are produced at Solar Frontier's gigawatt-scale Kunitomi factory, a production facility unparalleled for its combination of advanced automation, scale, and low-energy, end-to-end processing of CIS modules. Solar Frontier's modules deliver compelling economics, energy conversion efficiency, and overall power output (kWh) in real-world operating conditions. The "light soaking" effect of CIS modules significantly increases output from initial values, while a lower temperature coefficient than crystalline silicon means more kWh produced under real conditions in hotter climates. Solar Frontier's modules are also ecologically compelling, with lower overall energy consumption in the manufacturing process to yield one of the fastest energy payback times in the solar industry.
About Solar Frontier
Solar Frontier K.K., a 100% subsidiary of Showa Shell Sekiyu K.K. (TYO:5002) ("Solar Frontier"), has a mission to create the most economical, ecological solar energy solutions on Earth. Building on a legacy of work in solar energy since the 1970s, Solar Frontier today develops and manufactures CIS (denoting copper, indium, selenium) thin-film solar modules for customers in all sectors around the world. Solar Frontier's gigawatt-scale production facilities in Miyazaki, Japan, integrate compelling economical and ecological advantages into every module: from lower energy requirements in manufacturing to the higher overall output (kWh) of CIS in real operating conditions. Solar Frontier is headquartered in Tokyo, with offices in Europe, the U.S.A., and the Middle East. Visit www.solar-frontier.com for more information.
Showa Shell Sekiyu K.K.
Showa Shell Sekiyu K.K. is listed on the Tokyo Stock Exchange and has roots dating back more than 100 years in the downstream energy business.
Featured Product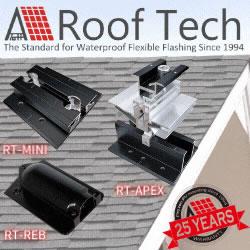 Now Roof Tech brings you the most innovative, watertight mounting systems ever developed for solar photovoltaic systems. Designed and manufactured exclusively for us by Japan's longtime leader in roofing technologies, Roof Tech products are 100% code-compliant and offer fast, simple installation and huge savings on shipping costs due to their compact, rail-less design. Learn more about our full line of versatile PV mounting solutions now available for residential installations. The next generation in rooftop solar mounting solutions."