"More competition is always good for sales, and as these vehicles become better known as mainstream products
LONDON--Hybrid vehicles have been on the market for many years now, but 2011 was significant for the introduction of the first plug-in and all-electric consumer vehicles from major manufacturers, along with promises of more in 2012. While this will not lead to a major shift away from conventionally-powered vehicles, this market will see steady growth over the next eight years.

"More competition is always good for sales, and as these vehicles become better known as mainstream products, both production efficiencies and consumer demand will improve," says principal analyst David Alexander. "However, gasoline and diesel engine technology is not standing still and more efficient conventional solutions will not make it easier for HEV producers."
Government incentives and increasingly stringent emissions regulations will continue to drive the adoption of hybrid and electric vehicles. In particular, major cities are providing a great deal of support for electric and plug-in hybrid vehicles by subsidizing the installation of public recharging infrastructure and offering discounted or free parking and other benefits.
"Fuel cost has a major part to play in the growth of the HEV market," says group director Dominique Bonte. "Initial purchase cost remains a barrier to large sales numbers, but if fuel cost was to rise significantly, then the payback period would get much shorter and demand would rise. Note that if this happens in the short term, there might be issues ramping up production."
Commercial hybrid and electric vehicles continue to be tested in fleets and there is a much greater variety of technology available, including hydraulic energy storage systems that are better suited to large, heavy vehicles. There is no solution that meets all needs and each technology must be evaluated in terms of the drive cycle required.
ABI Research's study, "Hybrid and Electric Vehicles," (http://www.abiresearch.com/research/1009889) provides a summary and analysis of relevant global market and business trends, technical evaluations of the major types of hybrid and electric drive on the market, and discussion of product announcements and activity by companies competing in this market.
The report forms part of ABI Research's Automotive Technology Research Service (http://www.abiresearch.com/products/service/Automotive_Technology_Research_Service).
ABI Research provides in-depth analysis and quantitative forecasting of trends in global connectivity and other emerging technologies. From offices in North America, Europe and Asia, ABI Research's worldwide team of experts advises thousands of decision makers through 40+ research and advisory services. Est. 1990. For more information visit www.abiresearch.com, or call +1.516.624.2500.
Featured Product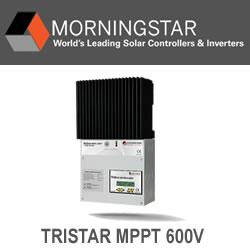 Morningstar's TriStar MPPT 600V charge controller leverages Morningstar's innovative TrakStar™ MPPT technology and our 20+ years of power electronics engineering excellence, to enable the widest input operating voltage range available from a solar array, wind turbine or hydro input. This controller's standard and DB versions are for off-grid applications, and the TR versions were developed to enable retrofitting grid-tied systems with battery backup.