Co-located Conference & Exhibition focusing on the Renewable needs of sub-Saharan Africa signs up ANDRITZ HYDRO as Sponsor 6-8 November 2012, Sandton Convention Centre, Johannesburg, RSA
23rd February 2012; Renewable Energy World Africa Conference and Exhibition 2012, taking place in Johannesburg, South Africa on 6-8 November 2012, have launched their eagerly anticipated website at www.renewableenergyworldafrica.com.

The Renewable Energy World Africa website contains important information with regards to exhibiting and sponsorship opportunities, travel and accommodation for the event, registration prices and will in time contain the preliminary conference programme, as well as the latest industry news and information on Renewable Energy World Africa as a whole.
Renewable Energy World Africa is co-located with the inaugural POWER-GEN Africa and will include a dedicated conference stream featuring three days of presentations and debate about the strategic challenges and technical solutions for expanding renewable energy power generation across sub-Saharan Africa. Exhibitors will also have a dedicated Renewable Energy World Africa pavilion on the show floor which will be a focus of expertise and global technological excellence in the green energy sector.
Renewable Energy World Africa has also confirmed the support of ANDRITZ HYDRO as Sponsor for the upcoming 2012 Conference and Exhibition, taking place in Johannesburg, South Africa on 6-8 November 2012, as well as agreeing to take an anchor tenant position in the new Renewable Energy World Africa pavilion
ANDRITZ HYDRO is a global supplier of electro-mechanical systems and services for hydropower plants and one of the leaders in the world market for hydraulic power generation.
ANDRITZ HYDRO promotes hydropower as the most economical form of renewable energy. In close cooperation with our customers, ANDRITZ HYDRO elaborates long-lived, environmentally friendly concepts. Maintaining our natural environment, mankind, and technology in perfect harmony is part of their corporate culture.
Renewable Energy World Africa provides a vital platform for companies like ANDRITZ HYDRO who are interested in working with the local power industry in sub-Saharan African countries and those looking to invest in the sector. Renewable Energy World Africa joins PennWell's existing network of leading POWER-GEN and Renewable Energy World events and is supported by Renewable Energy World, Power Engineering International (PEi), and Cogeneration & On-Site Power Production (COSPP) publications.
Countries in sub-Saharan Africa today face a collective power deficit with the prospect of fast growing future demand. Renewable power generation offers huge potential to help close this gap in a continent with abundant renewable resources and space. With technology advancing quickly and manufacturing costs lowering, renewable power generation will play a big role in a new energy infrastructure in Africa offering solutions in both rural distributed applications and large-scale projects such as hydropower, CSP, wind and biomass.
This important new industry forum will feature leading power industry professionals from around the world who will share their expertise and experiences to help define Africa's energy sector of the future. POWER-GEN Africa, along with Renewable Energy World Africa is set to become the region's premier conference and exhibition dedicated to the power industry. It will also provide the perfect setting for industry leaders and decision-makers to network and keep abreast of the latest developments in the sub-Saharan region in the field of power and energy.
Based on the reputation of the global events by PennWell worldwide, POWER-GEN Africa and Renewable Energy World's exhibition is expected to attract the industries' leading power equipment and service suppliers, who will line-up alongside local electricity generators and power engineering firms all demonstrating their latest technologies.
For further information please visit www.renewableenergyworldafrica.com.
Featured Product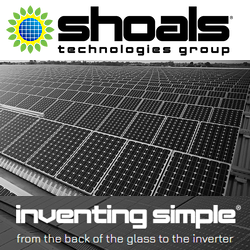 Inventing Simple® isn't just a slogan to us, it's a way of life. Using simple plug-and-play ideology, we revolutionized solar installations in 2003 with our Interconnect System™. Our harnessing system is now the gold standard EPC's use around the world. By using simple ideas, we are making solar energy a more affordable and clean power source for future generations.