"The sheer strength and integrity of the Schneider Electric company is head and shoulders above the competition. Your inverter is the heart and soul of your photovoltaic system, you simply can't afford anything but the best." Kenny Habul, CEO for SunEnergy1
Burnaby, Canada, February 23, 2012 — Schneider Electric, a global specialist in energy management, has been chosen by SunEnergy1 to supply nine Schneider Electric GT500 MVX grid tie solar inverters for a commercial rooftop project at Shoe Show's corporate headquarters in Concord, North Carolina. The 5.2 MWp project, which was commissioned in January 2012, is one of the largest commercial rooftop projects in the United States.

Shoe Show, Inc., the largest independent shoe retailer in the United States, entered into a Power Purchase Agreement with Duke Energy, who will purchase all of the power generated from the system as a part of their renewable & clean energy initiatives. This solar installation is projected to generate 6.7 Million kWh per year which is enough clean energy to fully power approximately 600 homes.
Schneider Electric inverters were chosen for this project because of the strong relationship that Schneider Electric has developed with SunEnergy1 over the past two years. "SunEnergy1 researched and studied inverter manufacturers for several years before choosing Schneider Electric," said Kenny Habul, CEO for SunEnergy1. "Their ability to supply us with other key components of the Balance of System, like the DC Combiner boxes, a comprehensive SCADA solution and their excellent extended warranty program were also key factors in our choice. The sheer strength and integrity of the Schneider Electric company is head and shoulders above the competition. Your inverter is the heart and soul of your photovoltaic system, you simply can't afford anything but the best."
The GT500 MVX inverters are designed for large scale UL compliant 600Vdc utility power plant applications, but were chosen for this rooftop project due to the solar array being tied directly to the utility medium voltage grid rather than being routed through the building low voltage distribution system. The GT500 MVX is a high efficiency inverter which incorporates an advanced Maximum Power Point Tracking (MPPT) algorithm to maximize the energy harvested from a PV array. The GT500 MVX is suitable for outdoor installation, and the inverter and its sub-components have gone through reliability testing using Multiple Environmental Over Stress Testing (MEOST) methods. Higher inverter reliability can help to reduce system downtime resulting in higher energy production.
"At 4.5 MWac, the SunEnergy1 project executed at Show Shoe is a landmark achievement for rooftop solar in the Eastern United States" said Rudy Wodrich, Commercial Vice President Americas, Schneider Electric's Solar Business. "With utilities and legislators both embracing solar as a distributed generation alternative and job creation mechanism in more and more states, we are very excited about the future of the industry."
About SunEnergy1
SunEnergy1 is a full-service solar technology company dedicated to providing affordable and renewable energy to our clients with over 40 years of combined experience and installations in the USA. We are one of the largest and most integrated Solar companies on the East coast, providing comprehensive product and service solutions beginning at the design stage. SunEnergy1 is focused on designing, installing and operating Solar PV systems that use the sun's energy to generate electricity for a wide range of applications in the residential, commercial and industrial sectors. SunEnergy1 has office and warehouse facilities in the United States and Montreal, Canada.
About Schneider Electric
As a global specialist in energy management with operations in more than 100 countries, Schneider Electric offers
integrated solutions across multiple market segments, including leadership positions in energy and infrastructure,
industrial processes, building automation, and data centres/networks, as well as a broad presence in residential
applications. Focused on making energy safe, reliable, and efficient, the company's 130,000 plus employees
achieved sales of 22.4 billion euros in 2011, through an active commitment to help individuals and organizations
"Make the most of their energy."
www.schneider-electric.com
Schneider Electric and the Schneider Electric logo are trademarks or registered trademarks of the Schneider Electric group of companies.
Featured Product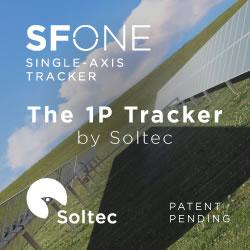 SFOne is the 1P single-axis tracker by Soltec. This tracker combines the mechanical simplicity with the extraordinary expertise of Soltec for more than 18 years. Specially designed for larger 72 an 78 cell modules, this tracker is self-powered thanks to its dedicated module, which results into a lower cost-operational power supply. The SFOne has a 5% less piles than standard competitor, what reduces a 75% the labor time.