A Clean Energy Expo & Music Festival featuring PETE SEEGER & ARLO GUTHRIE & Special Guests
Vernon, New Jersey- WowFarm Productions LLC announces plans to present an ambitious "Extravaganza" called "Solar Expo Jam 2012, A Clean Energy Expo & Music Festival." This enlightening event will be held at the scenic Rickey & Son's Organic Farm located in Vernon, New Jersey for three consecutive days, starting Friday, August 17 at 11am and runs thru Sunday, August 19 at 7:00pm

As of today, national headline artists Pete Seeger & Arlo Guthrie are confirmed. Event organizers are currently involved in talks inviting other "well known" musicians. "Roland Mousaa", "Princess Wow! and her Smile Revolution Band" and "Such As Us" are the first of many regional favorites that'll join this 3-day Music Festival production. New details will be released in upcoming weeks.
The Expo sheds light on current & future ways to use clean energy and offers a wonderful chance to meet experts, inventors and product reps in the field. There will be more than one hundred Exhibitors including vendors, manufacturers, distributors, installers and retailers of solar, wind, geo-thermal, electric cars and "the like" on hand. A separate "Speaker's Forum" will present a select group of Inventors & Experts each day.
Expect fascinating surprises as plans unfold. WowFarm has hinted that they will soon make an announcement on a "significant & revolutionary" new invention being unveiled at The Expo. The "New Annual Event" begins with a "limited" Initial Public Offering, which features heavily discounted Tickets & Vendor Fees.
You too can help promote Clean Energy with a variety of Sponsorship levels available. Go to SolarExpoJam.com
Featured Product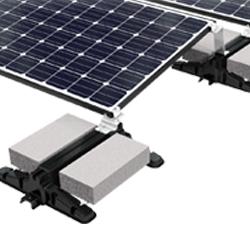 The Power Rail™ Commercial Mounting System is designed with the professional PV solar installer in mind. Both the XD/UD and LD/MD rails feature single tool assembly with the revolutionary patented RAD™ Lock-in-Place bolt for fast and secure module clamping. The high strength marine-grade aluminum rails include an integral wiring channel for securing cables and providing a professional finish.