Company Financed, Designed and Installed Its Largest Military Project as Demand for Energy Independence on Military Facilities Grows
SAN DIEGO--Borrego Solar Systems, Inc., a leading designer, installer and financier of grid-tied government solar photovoltaic (PV) systems, today announced the completion of a 3.4 megawatt (MW) solar power installation at Edwards Air Force Base in Southern California. Comprised of 3 ground-mounted, single-axis tracking solar farms, the system is the largest military project completed by Borrego Solar to date, and demonstrates the value of the company's end-to-end solar power installation services for military facilities.

The system was financed via Borrego Solar's in-house Power Purchase Agreement (PPA). Per the agreement, Borrego Solar financed, designed and installed the system at no upfront cost to Edwards Air Force Base. Borrego Solar will sell energy back to Edwards Air Force Base at an economical and fixed rate, offsetting an average of 6 percent of the energy consumption across the three facilities.
"As we work to reduce our dependence on fossil fuels, solar energy is one of the most reliable and cost-effective tools available to us," said Ms. Amy Frost, Chief of the Civil Engineer Asset Management Branch for Edwards Air Force Base. "Financing large-scale projects can be tough in this economic climate, so a PPA made a lot of sense for us, as it eliminated the need for upfront investment and long term maintenance. The deal allowed us to quickly implement solar on our facility and deliver immediate operational savings."
Scaling up efforts such as this to promote energy security, the Department of the Army recently established the Energy Initiatives Task Force (EITF) to oversee the Army's goal of transitioning to 25 percent renewable energy use by 2025. Despite the Army's goals, financing solar projects can still be a challenge. By entering into a PPA with Borrego Solar, military facility managers can move solar projects forward, and enjoy many of the benefits of solar energy while investing zero upfront capital costs.
"We are proud to have completed this project as it is a great example of how public-private partnerships can succeed and allow the development and installation of large-scale solar energy systems on government property," said Mike Hall, CEO of Borrego Solar. "Edwards Air Force Base should be applauded for making renewable energy a priority at their facility. We look forward to continuing our work with military facility managers to help them take full advantage of the financial benefits that come from using solar to generate clean and sustainable energy, and local jobs."
Borrego Solar continues to deliver on its mission to help federal organizations go solar. Last week, the company was awarded a contract by the General Services Administration (GSA), certifying it to provide solar installation services to federal agencies. Edwards Air Force Base is the largest project in Borrego Solar's growing military portfolio to date. The company completed a nearly one MW solar project in 2010 at the Point Loma Navy Base in San Diego Bay.
About Borrego Solar
Established in 1980, Borrego Solar Systems, Inc. is one of the nation's leading financiers, designers and installers of commercial and government solar power systems. Borrego Solar's photovoltaic systems are efficient, reliable and cost-effective. With more than three decades of experience and more than 1,000 solar power installations completed—totaling more than 45 MW—Borrego Solar offers a complete line of solar systems design and installation services throughout California, New England, and the Mid Atlantic. For more information, visit www.borregosolar.com.
Featured Product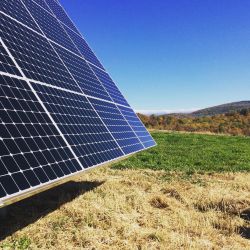 Designed and manufactured in the U.S., the AllEarth Solar Tracker is a complete grid-tied, dual-axis solar electric system that produces up to 45% more electricity than fixed systems. The tracker uses GPS and wireless technology to follow the sun throughout the day for optimal energy production. It has an industry-leading 10 year warranty and 120 mph wind rating, superior snow shedding, and automatic high wind protection. Its simple, durable design and complete system pallet simplifies costly procurement and installation time. Contact us about becoming a dealer partner or purchasing an AllEarth Solar Tracker.