Will save its new owner an estimated 37,584 therms annually
GRIDLEY, Calif. – March 1, 2012 – FAFCO, Inc. has provided the largest solar water heating system ever installed in California and will save its new owner an estimated 37,584 therms annually.

FAFCO and BCM Construction completed installation and commissioning of the system on Dec. 22, 2011 at Stapleton-Spence Packing Company in Gridley, Calif. The system is expected to save approximately $20,000 annually in reduced natural gas water heating costs—helping provide a payback for the pre-heating system in approximately three and one-half years after federal incentives plus a $476,000 rebate for the food processing facility from Pacific Gas and Electric Company (PG&E) which administers the California Solar Initiative (CSI-Thermal). This is the largest solar thermal rebate ever awarded by PG&E.
Stapleton's uses large amounts of hot water every day in its fruit processing operations in Northern California. Prior to installing the FAFCO solar water pre-heating system, water from a well was sent straight to a boiler where it was heated for use in processing. The FAFCO solar water system now pre-heats the water by approximately 30 degrees as it comes from the well, before sending it to the boiler, thereby reducing the load and energy required to create hot water and steam.
The system utilizes 20,000 square feet of FAFCO all-polymer solar collectors, a 13,000-gallon storage tank, a unique control and fluid circulation system, and all-polymer piping to pre-heat well water before entering the two existing 600 hp boilers.
Stapleton's produces juice, fruit purees, and nuts, and is known as the largest packer of private label canned prunes in the food service industry. The plant consumes an average 650,000 therms of natural gas per year, primarily used to create steam to rehydrate dried fruit. The savings, which will vary with weather, water temperature, and hot water consumption, are estimated to be 37,584 therms per year by the California Solar Initiative (CSI) incentive calculator. This is the equivalent of approximately 1,000,000 kWh or a carbon footprint offset of 1.4 million pounds of CO2.
FAFCO's solar hot water system can easily integrate into both new buildings and existing facilities. The lightweight, efficient solar collectors can often be installed without roof reinforcement and with minimum operational disruption.
Using a proprietary co-polymer blend, FAFCO collectors withstand even the harshest outdoor environments and absorb heat from the sun at very high efficiencies. While unglazed polymer collectors reach and sustain the temperatures necessary to efficiently heat water, they are immune to overheating – the number one problem plaguing alternative solar water heating technologies, including glazed and evacuated tube systems.
By focusing on pre-heating incoming mains water, companies can significantly reduce the energy used by their boilers. Fruit and vegetable processors, poultry processors, dairies, breweries, commercial laundries, restaurants, cafeterias, and dormitories are just a few of the most likely beneficiaries of installing solar thermal systems to lower water heating expense.
The CSI rate payer-funded state program has approximately $280M budgeted for solar water heating installations. When the federal 30% tax credit is applied on top of the state program, companies can often reach 3- to 6-year paybacks for installations of solar thermal systems in California. Checking qualifications and suitability for the rebates is a fast process. Companies can go to www.gosolarcalifornia.com for more information.
Harnessing heat from the sun to cut the amount of conventional energy required to heat water delivers long-term financial rewards – monthly energy savings, reduced operating expenses and protection against rising energy prices. It also yields significant sustainability dividends by contributing to a cleaner environment.
About FAFCO, Inc.
FAFCO is a California-based manufacturer of solar water heating systems for home, pool and commercial applications as well as thermal energy storage. FAFCO is the oldest and largest solar thermal manufacturer in the United States, and has earned almost 20 U.S. patents and has nearly two million of its proprietary polymer solar collectors installed worldwide. FAFCO's achievements in solar technology have been widely recognized with a variety of industry awards, a feature in Newsweek magazine's "History of Solar" in 2008, and the induction of FAFCO's founder, Freeman Ford, into the International Solar Hall of Fame in 2006.
All FAFCO products are made in the U.S.A at FAFCO's custom-built solar research, design and production facility in Chico, California. To learn more about FAFCO visit www.fafco.com/commercial call 800-994-7652
About Stapleton's
Stapleton-Spence Packing Company is the leading packer of prune concentrates, purees, juices, nuts, and other dried fruits. Headquartered in San Jose, with its processing facility in Gridley, Calif., Stapleton-Spence is a family-operated company in business since 1951. (www.stapleton-spence.com)
About the California Solar Initiative (CSI)
The California Solar Initiative (CSI) is a solar rebate program serving both residents and businesses. The thermal portion of CSI has a budget of $280 million to install 200,000 solar hot water systems between 2010 and 2017. The program is overseen by the California Public Utilities Commission. (gosolarcalifornia.org)
Featured Product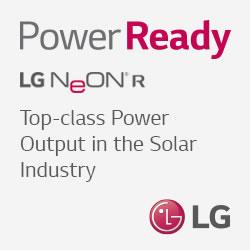 The NeON R module features "Back Contact" cell technology delivering an entirely black panel that is aesthetically pleasing and energy efficient. The cell's seamless, surface blends perfectly into nearly all rooftop designs while the module's electrodes are positioned on the rear of the cell. Using LG's N-type cell structure, the panels produce 365W of energy, up to 7.3kWp, compared to 5.8kWp of the p-type cell. The module's new design minimizes LID, thereby delivering a longer lifespan and increased energy output.