Dow's Polyolefin Encapsulants Can Help Extend Life of Photovoltaic Panels
MIDLAND, Mich.--The Dow Chemical Company (NYSE:DOW) continues to take steps to validate the benefits of using ENLIGHT™ Polyolefin Encapsulant Films technology to help harness the power of the sun and turn it into useful energy for the world's needs.

Crystalline silicon PV (photovoltaic) modules made with ENLIGHT™ Polyolefin Encapsulant Films were performance tested by TÜV Rheinland1 in Germany. Following requirements of IEC 61215, the panels were shown to perform well in all test protocols.
"This is another step – an important one – that continues to validate the performance of ENLIGHT™ films for use in crystalline silicon photovoltaic cell technology," says Mark Hofius, leader of the R&D team. Hofius noted that Dow's own research shows that using ENLIGHT™ Polyolefin Films to make photovoltaic panels can help extend service life and maintain module reliability. Based on accelerated damp heat test results power loss in panels using more traditional films occur after just 2,000 hours. Modules based on ENLIGHT Polyolefin Film shows no power loss after 10,000 hours.
Using Dow's polyolefin encapsulant films can also help lower the total system cost of producing the modules. ENLIGHT can allow panel manufacturers to use faster processing speeds (up to 30% faster) because of an extended window for lamination temperatures and the virtual elimination of bubbles, which leads to fewer rejects, according to Hofius. "Damage to equipment and modules might also be markedly reduced with our material because this process does not produce acetic acid," he says.
Dow began commercial production of these films in Findlay, Ohio, a little more than a year ago. Demand has been so great that the Company is already building two additional manufacturing plants that will come on-stream later in 2012 – one in Map Ta Phut, Thailand, and one in Schkopau, Germany, the heart of Europe's "solar valley." When complete, these sites will triple Dow's current capacity to produce ENLIGHT films.
Dow is dedicated to finding technologies that help harness the power of the sun and bring energy to use in many different ways – through commercial solar farms, through rigid and flexible photovoltaic solar modules, and through innovative new roof shingles for residential homes. Current products include adhesives, heat transfer fluids, coolant and wafer cutting fluids, and metallization, imaging, texturizing and cleaning technologies for solar cells. Dow also is home to POWERHOUSE™ Solar Shingles, which integrates solar technology into residential roofing shingles.
According to the United Nations Environmental Program (UNEP), the global solar industry is projected to grow at 25% a year over the next five years, as people continue to embrace solar energy as a good source of electricity and as solar energy costs begin to reach parity with other available energy sources.
About Dow
Dow (NYSE: DOW) combines the power of science and technology to passionately innovate what is essential to human progress. The Company connects chemistry and innovation with the principles of sustainability to help address many of the world's most challenging problems such as the need for clean water, renewable energy generation and conservation, and increasing agricultural productivity. Dow's diversified industry-leading portfolio of specialty chemical, advanced materials, agrosciences and plastics businesses delivers a broad range of technology-based products and solutions to customers in approximately 160 countries and in high growth sectors such as electronics, water, energy, coatings and agriculture. In 2011, Dow had annual sales of $60 billion and employed approximately 52,000 people worldwide. The Company's more than 5,000 products are manufactured at 197 sites in 36 countries across the globe. References to "Dow" or the "Company" mean The Dow Chemical Company and its consolidated subsidiaries unless otherwise expressly noted. More information about Dow can be found at www.dow.com.
Featured Product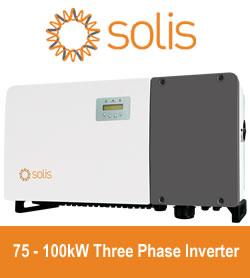 Solis75kW - 100kW series high-power string inverters are widely used in industrial and commercial rooftops. Solis's new three-phase string inverter is the first choice for industrial and commercial photovoltaics. 75-100kW three phase series string inverter have Maximum 28 strings input, support "Y" type connection in DC side. Maximum string input current 13A, support bifacial modules access.Supports anti-PID function to improve system efficiency.