For the first time ever, it will be unveiling its range of Kingspan Wind turbines, specifically designed to deliver maximum output, efficiency and reliability, even in the fiercest of storms.
WAKEFIELD, England, March 6, 2012

Kingspan Renewables
Ecobuild 2012 (ExCeL, London)
Stand(s):N2440, N2750
20-22 March 2012
Reflecting its market-leading position as the ultimate Renewables solutions provider, Kingspan will be launching a host of state-of-the-art new technologies at Ecobuild 2012, whilst exhibiting the full spectrum of its extensive product and services portfolio.
For the first time ever, it will be unveiling its range of Kingspan Wind turbines, specifically designed to deliver maximum output, efficiency and reliability, even in the fiercest of storms. Visitors to the show will also be able to see new enhancements to Kingspan's award-winning Varisol modular vacuum tube solar thermal collector as well as a number of new additions to its leading hot water storage portfolio. This includes Range Tribune Ecocyl cylinders - designed to push the boundaries on heat loss and efficiency, as well as Albion Aerocyl Heat Pump Only or Heat Pump & Solar Input cylinders, now available in Duplex stainless steel.
Boosting its commercial/industrial sector offerings, Kingspan Renewables is launching Range Tribune HE Industrial unvented hot water cylinders for commercial sizes of up to 500 litres. It will also be showcasing its Solar Loading & Fresh Water modules and Aeromax Plus air source heat pump packages for a wide range of outputs from 4kW through to 105kW.
Also on show will be the company's flagship Thermomax solar thermal vacuum tubes and flat plate panels ('in-roof' and 'on-roof'), and supporting its wide range of technologies, Kingspan Renewables will be demonstrating how its full package offerings are custom-designed to suit each application and provide specifiers, installers and end users alike with the ultimate Renewables solution.
Experts in Wind:
Complementing its extensive Renewables portfolio and expertise, Kingspan is showcasing two high yield wind turbines (3kW and 6kW) at Ecobuild. Aimed at rural domestic, small holdings and agricultural applications, these turbines deliver consistent, optimum performance, even in severe winds due to their unique blade hinge design and over-speed protection system. Unlike other turbines on the market today, which need to brake in high winds to protect themselves, Kingspan Wind's turbine blades pitch and cone, allowing for continual operation, offering the height of reliability and energy capture. The Kingspan Wind team are specialists in off-grid system design and integration, offering global solutions within every sector.
The One-Stop Solar Thermal Shop:
Kingspan will be exhibiting its market-leading MCS accredited Varisol and Thermomax solar thermal technologies at the show. Varisol is the world's first modular vacuum tube solar thermal collector with no manifold. This pioneering technology combines a unique design with high performance polymer materials to allow solar thermal vacuum tubes to simply 'click-fit' together to create solar thermal collectors of varying sizes. This means collectors can be sized to the exact needs of the end user within the space available.
Thermomax vacuum tube collectors are specifically tailored for Northern European climates and deliver an unrivalled transfer of solar energy into heat, providing up to 70 per cent of hot water requirements throughout the year. The vacuum inside each tube provides perfect insulation by protecting the system from outside influences, such as cold, wet or windy weather, resulting in quality performance all-year-round. Kingspan Renewables solar thermal flat plate panels will also be on show. They deliver a cost-effective solution both in domestic and commercial applications, providing excellent levels of efficiency and performance.
Air Source Heat Pumps:
The Aeromax Plus Air Source Heat Pump portfolio from Kingspan Renewables is the smallest, lightest and quietest available on the market today, with one of the widest operation capacities. The Aeromax Plus family is made up of a domestic and a commercial range, with a broad spread of outputs (4kW - 105kW) to match the exact needs of both UK and Irish domestic and commercial/industrial applications. Aeromax Plus can supply up to 100% of Space Heating and hot water requirements all year round, and can extract heat from outside air temperatures as low as -20˚C. It delivers energy savings that reduce CO2 emissions by up to 50% compared to traditional systems. For commercial applications, the savings offered by Aeromax Plus will significantly aid those participating in the CRC Energy Efficiency Scheme, reducing the mandatory payments owed to the government to cover their emissions.
The Best In Hot Water Storage
New to the portfolio are the Range Tribune HE Duplex stainless steel unvented commercial cylinders, available in sizes ranging from 90ltr up to 500ltr. With high flow-rate controls, assured reliability and low running costs, these are ideal for applications where large volumes of hot water are required, e.g. care homes, hospitals, industrial plants and sports pavilions. These also offer fast reheat and high insulation for ultimate efficiency. Another addition to the Range Tribune family is Ecocyl - available in both direct and indirect models (from 60L to 210L) with enhanced heat loss protection and efficiency in performance. These cylinders will assist developers further in SAP calculations and Building Regulations compliance without any additional work or labour costs on site.
Kingspan has also expanded its Albion Aerocyl range to include a wide selection of Duplex stainless steel options for superior endurance and corrosion resistance. The Aerocyl Plus range offers heat pump only and combined heat pump & solar input cylinders, which have been designed for use in conjunction with a heat pump as the main or additional source of energy. Together, Albion Aerocyl cylinders and Aeromax Plus Air Source Heat Pumps provide the ultimate package for maximum system efficiency.
The Full Package
Customers, both domestic and commercial, can benefit from Kingspan Renewables packages that are tailor-made to suit individual applications and to deliver ultimate results. They include the highest level of customer support from initial advice, through to customised design, installation by Kingspan accredited installers, final commissioning and technical support.
For more information, please visit: http://www.kingspan-renewables.co.uk
Featured Product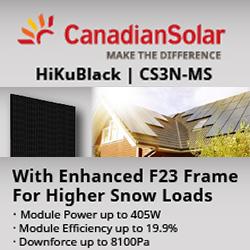 Aesthetic appearance for residential systems: With black backsheet & black frame, Power range 380 ~ 405 W, Low power loss in cell connection. Enhanced reliability: · Low temperature coefficient (Pmax): -0.34 % / °C, LID LeTID less than 2.0%, Lower hot spot temperature, Better shading tolerance.